Travel Insurance Is The Core of Airlines Ancillary Revenue Growth
Beyond paying for just your seat on the plane from one place to another, airlines offer a variety of "extra" services (also known as "ancillary services") that you can choose from to improve your experience on flight. Some of these in the most traditional forms include:
Ala carte goods and services (meals, baggage, seat upgrades)
Commission-based products (hotel accommodation, car rentals, travel insurance)
Frequent flier activities
Advertising space sold to third parties
Ancillary revenue makes up slightly more than ⅕ of the revenue garnered by airlines. Despite the dip in ancillary revenue in 2020 which is largely accounted for by the dip in overall revenues, this revenue component continues to see an upward trend in estimated growth based on positive ancillary revenue activity observed with the global airlines – low-cost carriers and full-service carriers-alike – in recent years.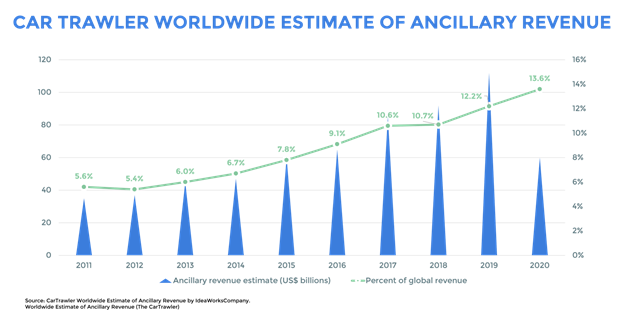 Travel Insurance Offerings Post-COVID
COVID-19's impact on the airline industry is indisputably and evidently the most significant. Now more than ever, the pandemic has further highlighted the need for airlines to diversify their revenue by exploring strategies to expand its range of ancillary services through untapped opportunities in travel retail, in-flight shopping and F&B pre-order.
Alliance between travel distributors and insurance providers are imperative to stimulate and sustain travel in the post-pandemic context. Market research consultancy, Finaccord, estimates that the annual revenue arising from airlines-travel insurance providers partnership may range from $1.2 to 1.5 billion in premiums. With the gradual offset of the pandemic, this can prove to be the silver lining and the perfect time to review this existing relationship as to design a more compelling travel insurance offering.
How Do Airline-Insurer Partnerships Work?
The airline (or travel player), insurer and insurtech form an insurance ecosystem together to provide the customer a seamless and hassle-free trip. These partnerships are usually tender driven, following 3 stages:
Travel insurance distributor approaches the market by issuing a document detailing your Request for Proposals (RFP).
Shortlist 4 to 5 candidates to clarify the details of the proposals submitted.
Select 2 best candidates to negotiate the commercial agreement/partnership.
The table below explicates the 2 types of tender process that can be considered by the airline:
Open Tender
Invite Only Tender
What is it?
● Any supplier can submit a tender.
● Exclusive invitation to a few suppliers.

● 2 types:

○ Invited only tender: RFP issued to selected suppliers.

○ Direct negotiation: Only one supplier is selected, without any prior competitive tendering process.

Pros
● Stimulates competition which leads to competitive pricing.

● Creates opportunities for new or emerging suppliers, and facilitates greater innovation.

● Invited suppliers tend to be known for their track record to be suitable for the contract of that size.

● Efficient.

Cons
● Not all who submit tenders are suitable for the contract.

● More time required to evaluate tenders.

● There is bias in the process, so this would exclude potential suppliers.
Use Case of Embedding Travel Insurance into Airlines
Travel insurance offering within the flight ticket purchase funnel is probably the first successful embedded insurance use case.
Usually, the customer needs to simply click a checkbox to add on insurance. While this can be at any point in the purchase journey, it is usually seen on the extras (or additional services) page or on the payment page. For example, travellers who fly with Singapore Airlines can choose to opt in for the travel insurance add-on by AIG (screenshot below).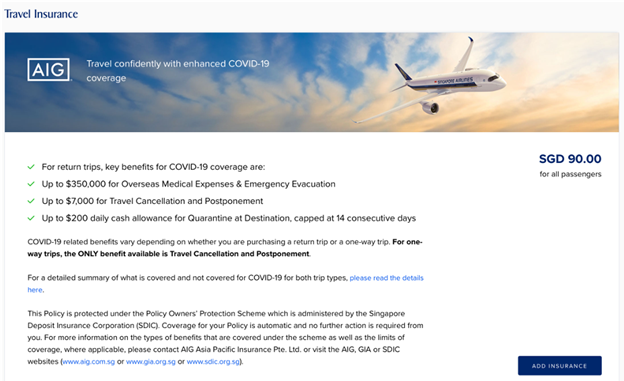 In-path Screenshot of Travel Insurance offered by Singapore Airlines
Some additional touchpoints for airlines to include the travel insurance offering, while they may be less integrated than API, include social media marketing, emails, SMS messages, newsletters subscribed post-purchase, and standalone white-label sites.
2021 World Travel Insurance Benchmark For Airlines
The Ancileo team researched 140 airlines globally across six primary regions, Asia, Middle East, Africa, Europe, Australia & New Zealand and the Americas.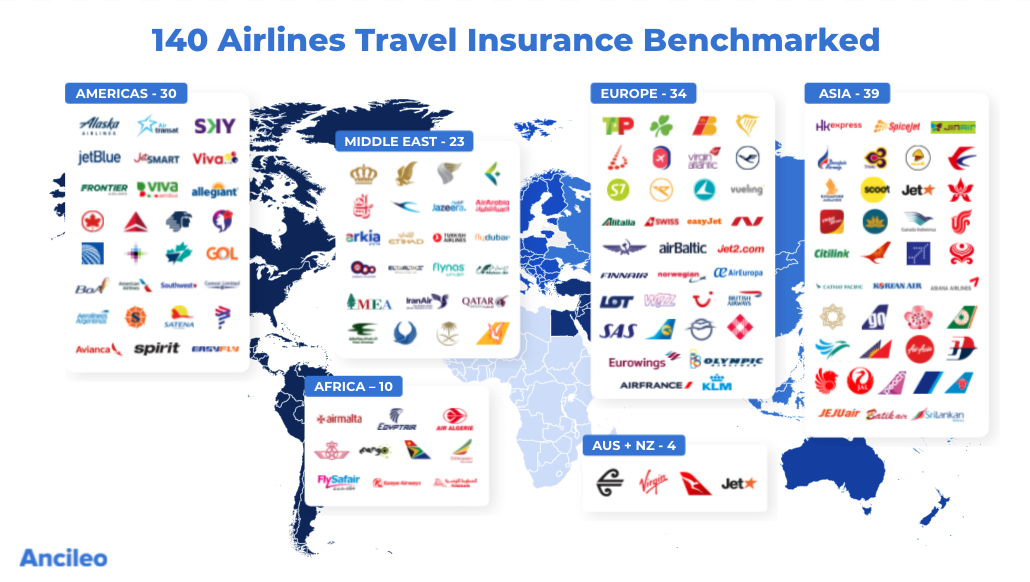 Ancileo's 2021 World Travel Insurance Benchmark For Airlines
Embedded In-Path Travel Insurance
Only 53.57% of Airlines offer embedded insurance in-path and of which, airlines in Europe and Asia have the highest proportion of airlines offering in-path embedded insurance.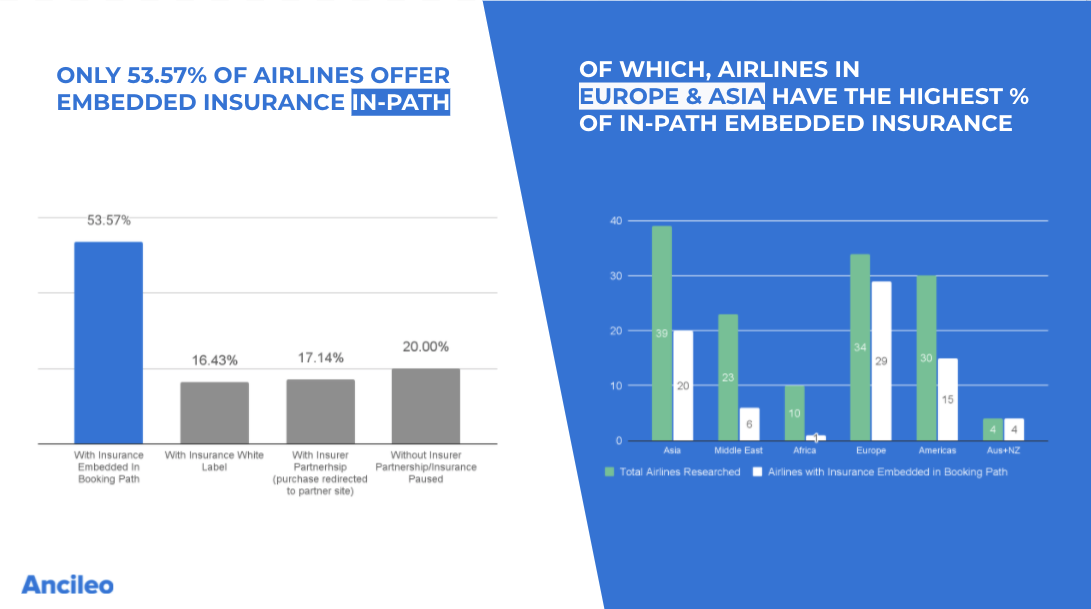 Some airlines also offer complimentary travel insurance or COVID-19 cover, either through self insured or via partnerships:
Japan Airlines
Cathay Pacific
Emirates
FlyDubai
Oman Air
Airlines Booking Path Travel Insurance Integration Type
There are 3 types of integration methods for embedding travel Insurance into the booking path: Opt-in, Opt-out and Forced Choice.
Opt-in – traveller must click to add on cover

Most airlines give travellers the choice to click and add travel insurance. This is prominent over almost all regions including Asia, Middle East, Europe, and the Americas.

Alitalia provides in-path opt-in insurance to travellers

Forced Choice – travelers must select an option to continue to the next stage of the booking process.

Forced choice is widespread over almost all regions. Travellers must either choose insurance or click on 'no' to continue the booking process. 

Air France provides in-path forced choice insurance to travellers

Opt-out – cover is pre-selected and the traveller can click to drop it

Most airlines in Vietnam, such as VietJet Air and Vietnam Airlines as well as those in the Philippines, such as Cebu Pacfic (screenshot below) and Phillipine Air offer opt-out insurance.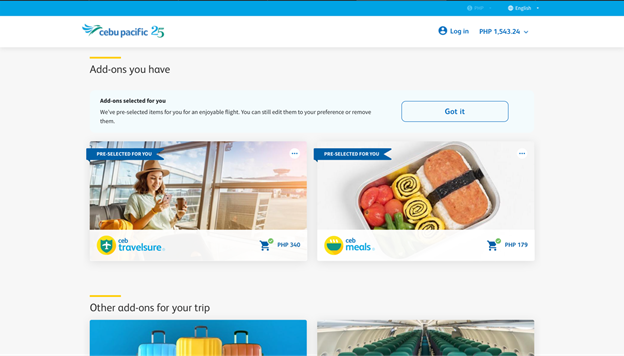 Cebu Pacific provides in-path opt-out insurance to travellers
Interestingly, 68% offer just 1 plan in the booking path for simplicity, and 81.3% of insurers offer travel insurance as opt in.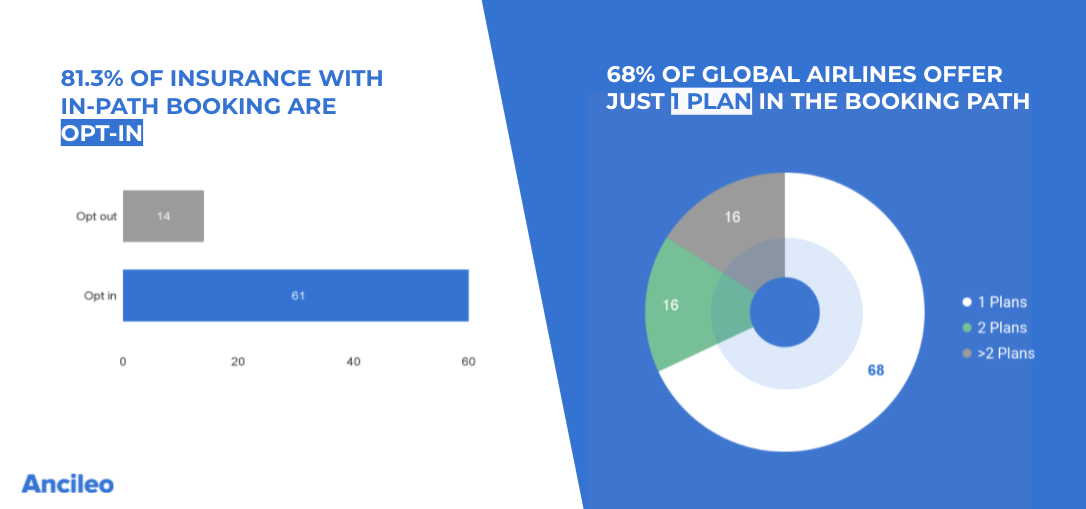 Details of Insurance in the Booking Path
Free Access To the Full Research Deck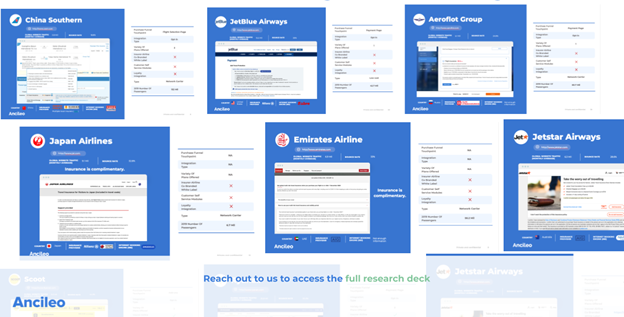 The full research deck contains detailed information of the 140 airlines':
Global monthly website traffic
Number of passengers in 2019
GDS providers (IBE)
Travel insurance providers
Travel insurance integration type
Number of plans
70+ screenshots of travel insurance integrated in booking path
If you are from the airline industry, contact us here to get full access to the full research deck