COVID-19 has created an unprecedented crisis for airlines, as revenues are headed for a crash landing should uncertainty persists for the travel industry… Hold up on that conclusion! There hasn't been clouds of gloom for all airlines, as we recently came across this article by Skift, "These 4 Airlines Made More From Upsells Than Ticket Sales in 2020." Amidst bad times for travel are also opportune times for airlines to look into new ways to diversify their revenue streams.
The growth in ancillary revenues is not unique only in the pandemic year. Apparently, the world's 75 largest commercial airlines showed that average ancillary revenue as a percentage of total revenue last year was 14.6%, a rise of 12.1% over 2019. Diving into specific ancillary revenue-generating products, travel insurance is one of the top products generating "non-air" ancillary revenue, followed by car rental and hotel booking services.
Consider why travel insurance has become even more important than ever – firstly, a lot of countries have added travel health insurance as part of their visa requirements; secondly, the risks pertaining to trip cancellations, medical cost incurrence while you're abroad, and quarantine costs are higher than ever before. Of course, putting COVID-19 aside, we also want to look forward to some of these insurance trends that are set to affect airline ancillary moving forward.
Trend #1: Expansion of an Insurance Ecosystem Beyond Travel
Qantas Airlines is one of the early adopters of this innovative business model when in 2017, it launched the "Qantas Assure" to offer its frequent flyer members health, life, car and home insurance products. Members are also allowed to offset their purchases with the miles collected through their travels.
Qantas was able to expand its insurance portfolio by partnering with insurers like TAL and NIB.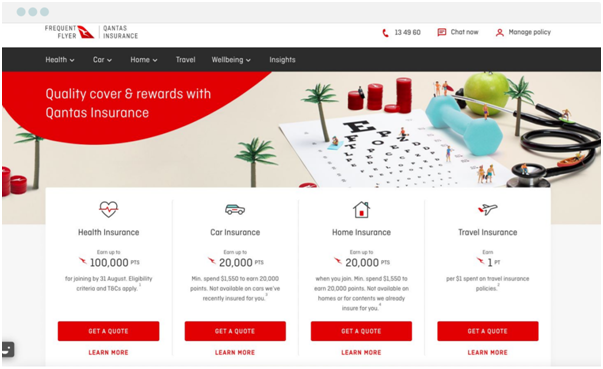 Screenshot Courtesy from Qantas Airlines' Website
Another more recent example of an airline offering non-travel insurance products is "CEB Health Protect" which came out of a partnership between Cebu Pacific and AXA Philippines in 2020. The product was the first of its kind in the Philippines' aviation industry.
The product can be conveniently purchased when you're booking or managing your flight on the CEB website, and flexible payment terms of up to 20 years are also available to accommodate the budget of the consumer.  The airline is also set to offer other products in its suite of lifestyle insurance packages in the coming months.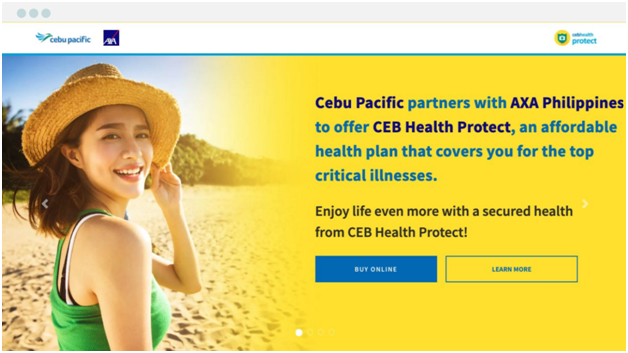 Screenshot Courtesy from Cebu Pacific's Website
Trend #2: Travel Insurance as a Loyalty Benefit, Instead of a Cross-Sell
As an airline partnering with an insurance provider, you want to earn from the commission you get from selling insurance via YOUR distribution channel. But think about this… why should consumers buy insurance from you instead of directly getting it from the insurance provider?
Virgin Australia hits two birds with the stone- (1) Earning the extra commission for selling insurance and (2) Rewarding customers via its loyalty programme: Silver, Gold and Platinum members earn a 50%, 75% and 100% bonus points respectively on top of the base points earned when travel insurance is bought alongside your airfare tickets through Virgin Australia's website.
Aside from partnering with insurance providers, Virgin Australia is also big on partnerships with a diverse range of retail providers such that points earned can be exchanged for an extensive suite of retail products beyond flight and seats.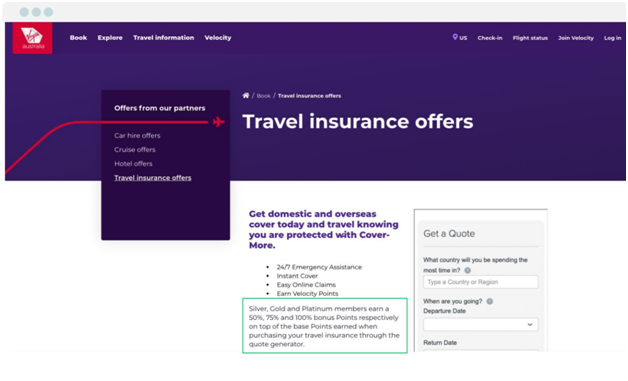 Screenshot Courtesy from Virgin Australia's Website
 Trend #3: In-Path Upsell Masterpiece
Take your upselling game to a new level. Expand your focus beyond the standard travel insurance that is offered across the other airlines.
Beyond covering for your usual flight cancellation and lost baggage, bespoke add-ons like gadget cover can be clearly promoted based on the persona of consumers purchasing the flights. For frequent travellers, an annual insurance plan can be offered at an affordable price and conveniently purchased via the airline's booking page.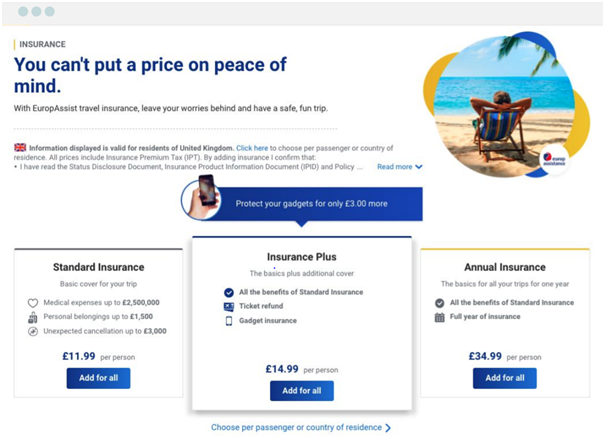 Screenshot Courtesy From RyanAir's Website
Trend #4: Real-Time Personalization
When it comes to trends in innovation whether it's in the insurance or airlines industry, the name of the game is personalization that is enabled through technology – specifically data analytics.
As it's been iterated in the previous trend, you can only effectively up- or/and cross-sell when you understand the persona of your consumer. Airlines have the upperhand when it comes to personalizing travel insurance plans for their customers given the wealth of data they have about their consumer demographics and travel patterns (frequency and destination).
A/B testing can be continuously done to optimize embedded travel insurance offering by reducing variation between the targeted persona and the persona of customers who actually end up purchasing the insurance product.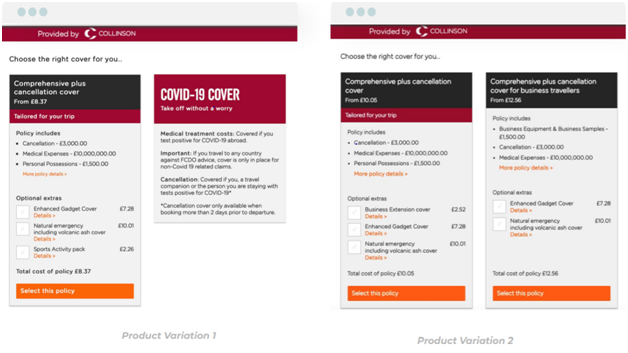 Screenshot Courtesy from EasyJet's Website
Trend #5: Exclusive Benefits for Airline Members
Also in line with trend #2 is the provision of additional insurance coverages for frequent flyer members. With Singapore Airlines, KrisFlyer members who purchase travel insurance via the Singapore Airlines' booking page receive exclusive coverages.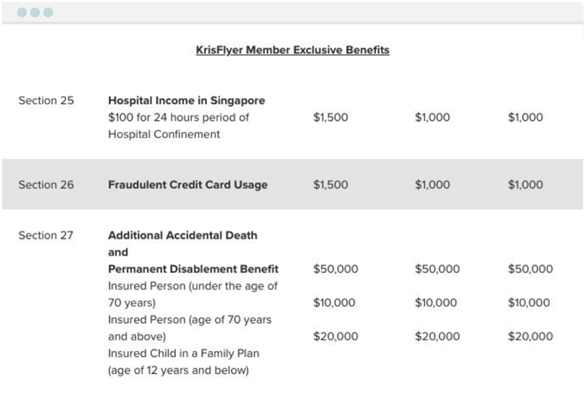 Screenshot Courtesy from Singapore Airlines' Website
Trend #6: Bite-Size Insurance Pushing Uptake of Other Ancillary Products
Sometimes, insurance is offered to the airline to complement the uptake of other ancillary products like the purchase of additional baggage allowance, meals on flight, and seat selection.
In the example of AirAsia, an insured element is incorporated to incentivize premium pack upgrades. As this is part of the package and not a separate add-on purchase relatively easy to implement as no technology is involved to incorporate an additional line in the feature.
At the same time, the 1-hour on-time guarantee also reinforces one of AirAsia's brand promises: Low-cost carrier with a network carrier reliability and quality.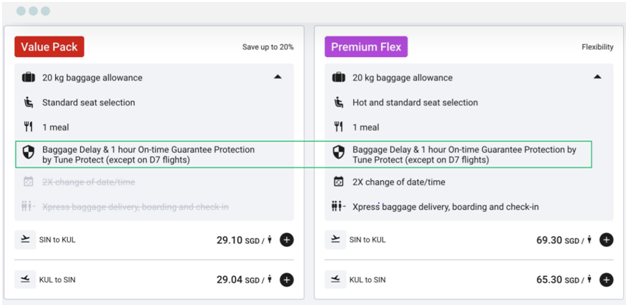 Screenshot Courtesy from AirAsia's Website
Trend #7: Complimentary Travel Insurance Offers
Not only airlines, other players in the tourism industry are also differentiating themselves in the market by incentivizing their potential customers with the complimentary offering of travel insurance – some including COVID-19 cover.
A caveat there, nevertheless: The devil is in the detail of the clauses! Such as the dollar caps on the coverage and restrictions of the types of claims you can file. Allianz Partners also shared that the most common type of coverage for these complimentary offerings tend to centre around emergency medical expenses for COVID-related illnesses.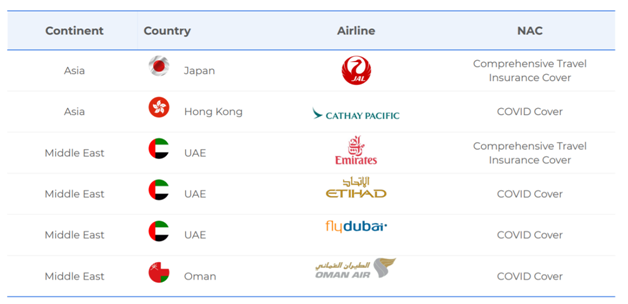 Trend #8: Building Travel Insurance with Non-Insurance Benefits
Think out of the box – Look beyond travel players to other ecosystems with products and services that can potentially complement your travel insurance offering. There are no hard and fast rules to the scope of partnerships as long as it's something that your target customers may be attracted to.
Ixigo, an Indian-based online travel portal, has made it enticing for their potential customers to get travel insurance via their platform for the simple reason that they can differentiate themselves from the myriad of other platforms (e.g. directly via the insurer or via the airline)  that customers can get travel insurance from.