Given intermittent eruptions of the pandemic, border measures are constantly evolving and no doubt the uncertainty of travel has reached its all-time high today. It wouldn't surprise us should there be a (re)emergence of hotspots leading to snap border closures and cancelled flights. That said, travel insurance is more important than ever for any traveller.
Beyond providing an ease of mind for holidaymakers, some countries are mandating inbound insurance coverage for travellers as a key enabler to resuming travel. Products with an epidemic coverage are not widely-available in the market, and some governments have taken the lead to engage private insurers to develop these products at an affordable rate for travellers (See: New insurance coverage for inbound travellers to cover Covid-19 related costs in Singapore, Singapore Tourism Board, Nov 2020).
The partnership between regulators and insurers is just one type of the different models that have emerged as a result of this pandemic. In this article, we will provide an overview of travel insurance growth, impact of COVID-19 and other driving factors, the state of epidemic coverage in these products, and digital partnership models as well as specific case studies.
 Travel Insurance Growth
According to Adroit Market Research, The global travel insurance market size is set to reach USD 40 billion by 2028, accounted for by the increasing levels of tourism – making up the largest component of 25% of international trade in services.
By region, Asia-Pacific held the largest share in the global travel insurance market – fueled mainly by the high demand for business travel insurance from China, Japan and Korea. By segment, medical expenses which cover the cost of tests and emergency treatments are anticipated to witness the highest growth during this period given persistent uncertainties around the pandemic in foreign lands.
For countries who have made travel insurance mandatory to issue VISA to travellers, medical expenses is a key element of travel insurance to ensure that the foreign traveller is prepared to bear the cost of medical treatment in the host country and that over time, this will not take a toil on public taxes if all travellers come unprepared.
Key players in the global insurance market include:
Allianz SE
Munich Reinsurance America, Inc.
American Express Company
Travelex Insurance Services
Atlas Travel Insurance Services Ltd
Aviva PLC, Saga Plc
Bajaj Finserv Limited
China Pacific Life Insurance Co., Ltd.
MS&AD Insurance Group Holdings, Inc.
Munich Reinsurance Company
Ping An Insurance Company of China, Ltd.
China Life Insurance Company Limited.
MAPFRE Insurance Company Inc.
Prudential Financial Inc.
Chubb Limited
Driving factors and opportunities that are accounting for the exponential growth in the travel insurance industry include the rising disposable income, increased business trips in the region, the spread of online travel booking platforms and use of mobile devices to access travel insurance, increased property damage and flight cancellations that are associated with COVID-19.
State of Epidemic Coverage Pre- and Post-COVID-19
First of all, what does epidemic coverage mean in travel insurance? As per leading travel insurer Allianz, epidemic coverage includes some or all of the following benefits:
Trip cancellation: Needing to cancel your trip after being diagnosed with COVID-19, or when the home and/or host country changes its overseas border measures.
Trip interruption: When during your trip, you are ordered to quarantine (e.g. covering cost of temporary accommodation).
Travel delay: When you are denied boarding based on suspicion that you are ill with an epidemic disease like COVID-19.
Emergency medical care: When you are diagnosed with COVID-19 and need to be hospitalized while travelling.
Emergency transportation: When you are diagnosed with COVID-19 while you are travelling and require an emergency medical evacuation.
Some key pre- and post-COVID-19 statistics we want to highlight the impact of the epidemic on the demand of travel insurance:
Airfare comparison site, Next Vacay, analyzed Google searches for "is travel insurance worth it" to have increased by 233%.
Medical coverage abroad used to be an afterthought for many travellers, but 80% of the travel medical plans sold by insurance provider, Seven Corners, now include a "specialized COVID-19 benefit."
Also according to Seven Corners, 4 of the top 5 destinations popular with their clients require proof of COVID-specific coverage for visitors upon arrival.
Pre-COVID-19, travellers tend to get their insurance on average 2 months before travel. Post-COVID-19, they are getting insurance sooner – on average 3 months and 6 days before departure.
Rise of CFAR-Embedded Travel Insurance
In line with epidemic coverage for travel insurance, we are also observing another trend that is gaining ground – "Cancel For Any Reason" travel insurance.

Travel Trends: Americans Spending More On Trips Than Pre-Covid, Forbes Advisor, Aug 2021
No doubt the long list of exclusions with insurance policies can send policy holders to the roof when it comes to the claims process. Especially given uncertainties surrounding the pandemic, what if you want to cancel your trip for a reason that is not listed in the aforementioned benefits?
That is where this type of insurance comes in useful. Firstly, it's a time-sensitive add-on that usually ranges from 7-12 days – which explains why travellers are getting their insurance sooner these days. Secondly, you are covered for any reason (say you don't like flying in cramped airplanes which is not unreasonable to expect at times like these!) as long as you follow the purchase and cancel stipulations indicated at the point of purchasing the policy.
Of course, CFAR coverage can be easily embedded – whether it's on the app or website of the insurance provider or a third-party provider – at the point of sale of the travel insurance policy.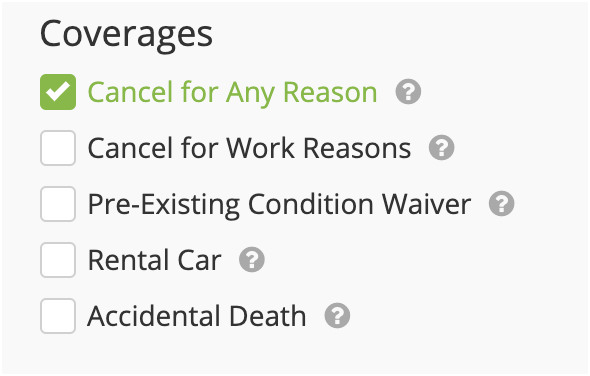 Screenshot courtesy of InsureMyTrip.com (Source: Everything you need to know about cancel for any reason trip protection, The Points Guy, Sept 2021)
Instead of pushing it as a separate purchase for your consumers, embedded insurance is repositioning this option as a necessary companion to a purchase. By embedding the CFAR option at the moment of their purchase, they may not necessarily know about this option until they are being offered.
What is the secret formula to succeed in embedded insurance? Find out here >>>