Insurance M&As are rising despite the heavy toll on world economies from the pandemic. In this piece, we talk about the rise of insurance M&As globally, their impact, the driving forces, and the way forward for insurance in Asia and the rest of the world.
Introduction
Much of the heated competition in the insurance industry today is largely due to technology and digitization. Aside from championing insuretechs, digitization has given consumers numerous choices. From registering for an insurance package on an app to filing claims, it's gradually becoming a 'consumer's market.'
While this trend is good for the industry as a whole, it has also created a huge challenge. The practices and principles of yesteryear aren't effective today. What worked previously isn't guaranteed to work. For insurers, this is the time to wake up to the challenge and find ways of surviving in the midst of the competition.
One sure bet for insurers is mergers and acquisitions (M&As). Of course, M&As have been around for decades. But their importance in mobilizing resources to build better insurance solutions can never be underestimated. While the pandemic slowed economic activities worldwide, M&As in the insurance sector didn't seem to be affected that much. Deals have been picking up since the second half of 2020 and continuing into 2021.
Mergers and Acquisitions in insurance reached a 4-year high in 2019 with 419 insurance M&As as compared to 382 in 2018. Deals in Asia Pacific rose to 69, representing a year-on-year increment of 17%. This is said to be maintained through 2020 (with a few glitches from covid19) to 2021.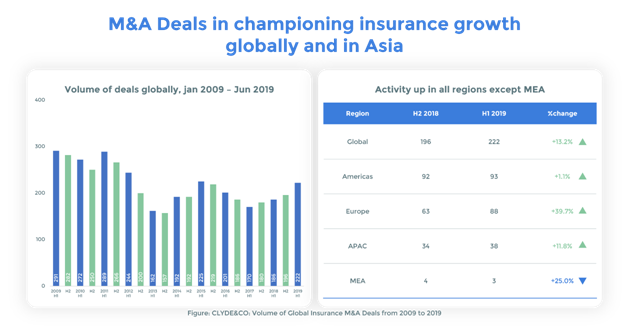 Figure: CLYDE&CO: Volume of Global Insurance M&A Deals from 2009 to 2019
In a global report by Deloitte, 26% of Asia Pacific respondents, 32% of North American respondents, and 38% of those in Europe have plans of pursuing M&As. The report states that these deals are more about strategic moves as insurers consider financial stability as core to their survival. While the pandemic is certainly playing a role in the rise of M&As in insurance in recent times, there's more to this.
Factors Driving Global Insurance M&A market
Beyond the pandemic, there are factors that have been driving mergers and acquisitions in the insurance industry for years. These factors will continue to push more deals in the future
Technology and digitization
Unlike banking, insurers have been slow in adopting new technology and digital solutions. This has largely slowed down the growth of the industry as companies fail to meet consumer demand. It also kind of exposed the insurance industry in the wake of the pandemic. Suddenly, consumers couldn't get access to top-notch digital insurance solutions while staying quarantined in the pandemic.
In a 2020 Deloitte survey, 79% of insurance executives accepted that the pandemic has exposed the lack of or slow adoption of digital solutions in the industry.
Fortunately, insurers are waking up and ready to adopt digital and tech solutions. In the same Deloitte survey, 95% of executives said they are making plans to adopt technology and digital solutions in their companies. With their focus turned on cybersecurity, data privacy, cloud computing, and data analytics.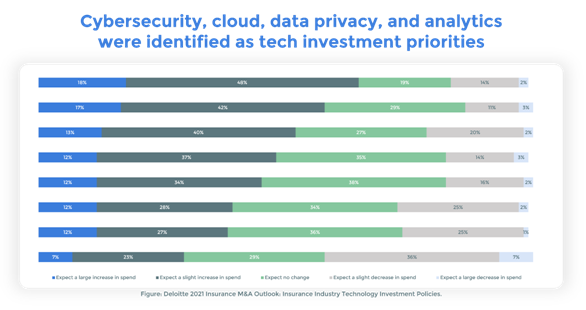 Figure: Deloitte 2021 Insurance M&A Outlook: Insurance Industry Technology Investment Policies.
These are the factors encouraging M&A deals to focus on digitization and technology adoption.
Legacy insurance firms are trying to upgrade their current systems (which are mostly outdated)
They are looking to use technologies such as AI, Big Data, Blockchain, and IoT to stay competitive.
And the need for them to meet the demands of modern insurance consumers
Heated Competition from Insurtech
Insuretech is giving legacy insurance companies a run for their money. These insurtech startups leverage data and AI to build on-demand insurance offerings. And consumers love them for the convenient and swift services. With a growing population, increasing disposable incomes, and high ecommerce penetration, Asia is one of the biggest markets driving the insurtech revolution.
While these startups compete with legacy insurers, there's a way for all of them to survive: Mergers and acquisitions. These M&A deals are happening in different ways, including:
Acquisitions – legacy insurance firms completely buying out insurtech startups
Partnerships and investments – legacy insurers and insuretechs coming together to advance their offerings
These two merging through special purpose acquisitionS (SPACS)
According to Bain & Company, investments in insurtechs reached $7 Billion in 2020, from $6.3 Billion in 2019. And the value created by these M&A deals in the insurance industry are massive.
Legacy insurers get to tap into the technological innovation provided by insurtechs to advance consumer offerings
The insurance sector is full of legislation that requires large assets and human resources to navigate. And legacy insurance firms have the capabilities to navigate the space. Thus, insurtechs are able to leverage their M&A deals with legacy insurers to maneuver through the legal space and stay compliant.
Both get to keep and share human resources to better serve the insurance consumer
Diversification and expansion
In a bid to diversify their offerings and expand operations geographically, both legacy insurers and insuretechs are looking to leverage M&A deals. Coming together gives them the power to combine resources to better serve customers.
It also helps both firms to reach geographical locations where it would be difficult or costly to reach by just expanding operations or building branches. But while M&A is championed by digitization, diversification, and insurtech's competition, there's more happening in Asia. Let's find out.
Understanding Insurance M&As in Asia: A Deeper Look
Insurance in Asia isn't the same in the west. The population, income, and cultural dynamics are different and in a way influence consumer demand. Beyond digitization and insurtechs driving M&As in insurance globally, Asia has some additional unique factors aiding the M&A boom.
Asia's Focus: Growth and the consumer.
Asia's population is more than half of the world's. It has some of the fastest growing economies. Most of the countries on the continent boast a large middle-class population. And the mobile phone penetration rate is high.
To meet the demands of consumers in such a market, insurers need to innovate and champion growth. There's huge potential for both legacy insurance firms and insurtech startups. And coming together could mean better resources to meet the needs of the growing population.
And as EY noted in their report "The extremely high expectations of consumers for seamless and personalized digital experiences inspire a great deal of innovation." Their M&A deals and investment also reflect this mindset – creating partnerships and investments that seek to grow the industry, according to McKinsey.
According to data from Clyde&Co's Insurance Growth Report 2019, M&A in insurance picked up in 2019 despite a little slow down in 2018. This growth is expected to be maintained throughout 2020 and 2021 despite a few glitches from the pandemic.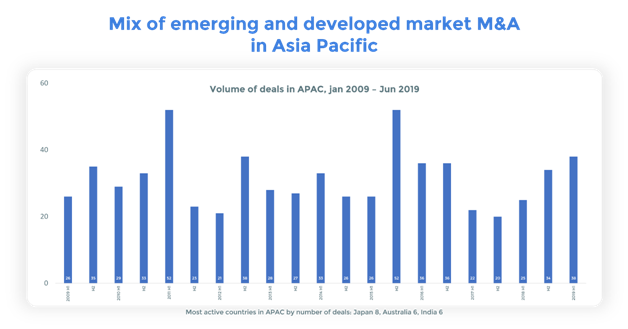 Figure: CLYDE&CO: Insurance Growth Report 2019.
But there's also another driving force: the final consumer.
At every point in the growth stage, Asia's insurance M&As focuses on the customer. Innovations focus on mobile-first insurance solutions and making the entire process convenient. With a growing population, high internet usage, and a high ecommerce patronage, it only makes sense that Asia's M&A deals in insurance focus on digital and online solutions. These kinds of partnerships and deals are already happening in many parts of the continent.
Zooming out: the way forward
Across Asia, M&A in insurance is growing. Legacy insurance firms are leveraging AI and Big Data to create modern insurance solutions. Insurtech startups are creating peer-to-peer platforms to enable an online-first insurance ecosystem. And these two are collaborating to bring insurance to the doorsteps of the consumer. These innovations are happening in Japan, Singapore, and in many parts of the continent.
In a mobile and online-first market like Asia, this is good news, especially for the consumer. These innovations would go a long way to remove the cumbersome paperwork that is common in the insurance ecosystem. It would also eliminate third-parties and make registration and claims processing seamless.
In the end, it's a race to capture the heart of the consumer. And the insurance mergers and acquisitions that focus on this would end up being winners.