Two (and more) heads are better than one. We want to be insured because none of us can predict what will happen tomorrow. This includes insurance companies themselves as well, and that is when reinsurance can be a lifeline when the industry hits a snag from a particularly large event or disaster.
Like its insurance counterpart, reinsurers are coming to terms with a market of increasing competition and uncertainties. S&P Global Ratings' Global Reinsurance Highlights 2020 Edition reported about $12 billion in COVID-19 losses year-to-date for the top 20 global reinsurers. This beckons reinsurers to innovate and adapt to succeed in remaining relevant and staying ahead in the industry.
From participating in insurance distribution for insurers, reinsurers are now spearheading  insurtech investments across the insurance value chain – from digitalising only their  internal business systems and processes to moving up-stream to work directly with distribution players (Oof! Controversial it is… but we make a case as to why this benefits their insurer clients more than it being a threat).
The Business Model of Reinsurers, & their Role in the Value Chain
In simple terms, reinsurance is "the insurance of insurance companies" and occurs when insurers share their risks with other insurers to limit their total loss resulting from an insurance claim.
This practice enables insurers to increase their capacity and manage their risks by taking on clients whose coverage would be too big for one to handle alone. That said, the insurers involved in the agreement would typically share the premiums paid by the insured.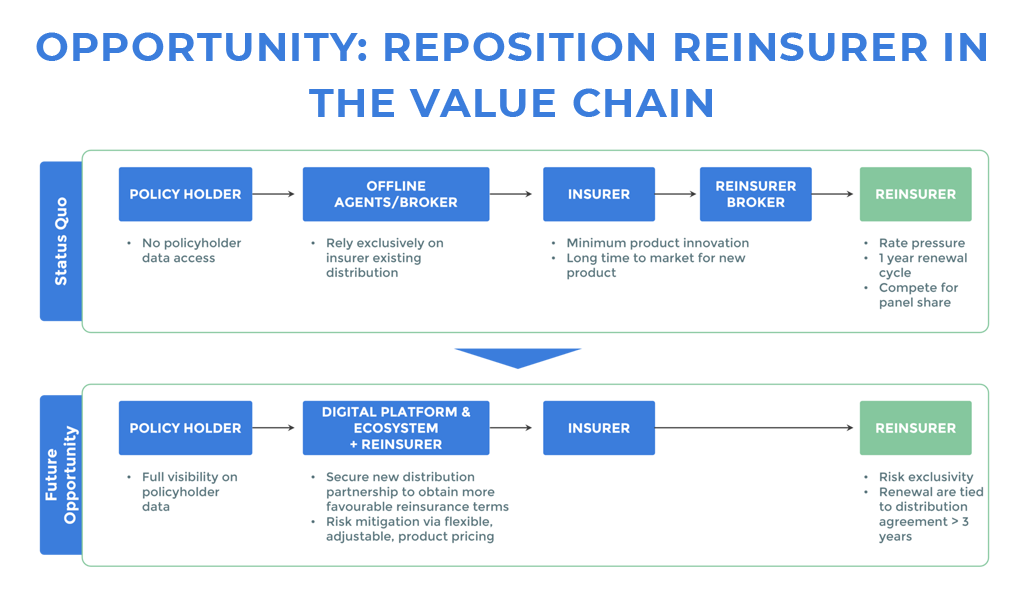 Insurance-Reinsurance Value Chain
Like insurance companies, reinsurers make money by investing the premiums in either the bond market or stock market, and liquidating them when they need to pay out claims. As they say, "don't put all your eggs in one basket." The reinsurance placement would usually be diversified among a few players to reduce the chances of a grievous financial loss in case one reinsurer fails.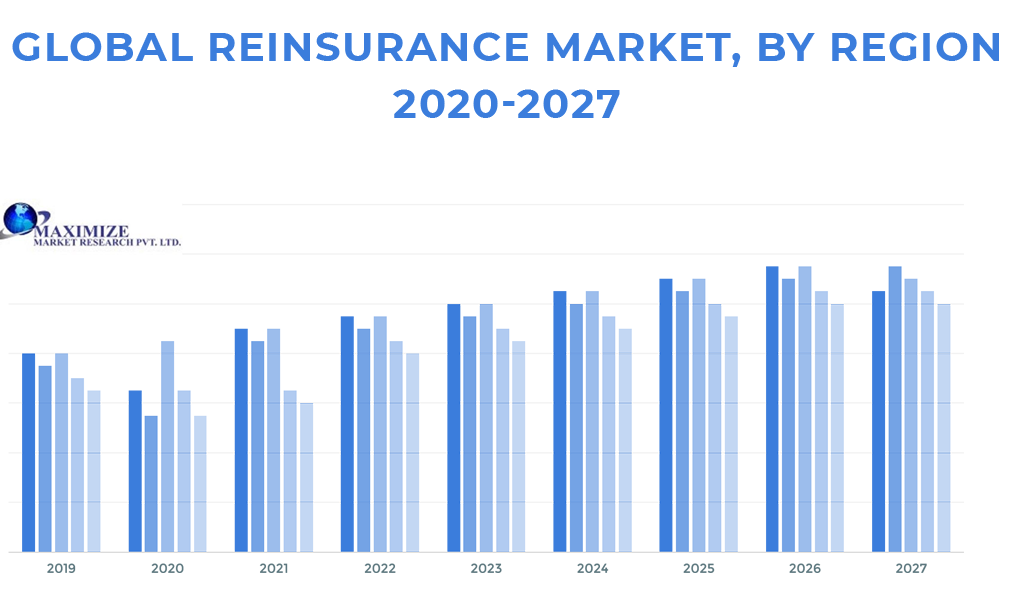 Source: Global Reinsurance Market: Industry Analysis and Forecast (2019-2026): By Product Type, Application and Region, Maximize Market Research
Both North America and Europe hold the largest market shares of the global reinsurance market. According to the Global Reinsurance market report 2021, the United States plays a key role in influencing global reinsurance trends. The report also forecasts that the Asia-Pacific region will occupy more market share in following years, especially in China, also India and Southeast Asia. 
| | | | |
| --- | --- | --- | --- |
| Ranking | Reinsurer | Net premiums written in billion U.S. dollars | Headquaters |
| 1 | Swiss Reinsurance Co | 39.65 | Switzerland |
| 2 | Munich Reinsurance Co | 35.28 | Germany |
| 3 | Hannover Rueck SE | 22.1 | Germany |
| 4 | SCOR SE | 16.18 | France |
| 5 | Berkshire Hathaway Re | 16.09 | United States |
| 6 | China Reinsurance (Group) Corp | 12.2 | China |
| 7 | Reinsurance Group of America, Inc | 11.3 | United States |
| 8 | Lloyds | 10.43 | United Kingdom |
| 9 | Great West Lifeco | 10.06 | United States |
| 10 | PartnerRe Ltd | 6.91 | Bermuda |
Largest reinsurers worldwide 2019, by net premiums written
(Source: Statista Research Department, Nov 2020)
As seen in the table above, most of the top players come from the North America and Europe regions.
Rise of Reinsurer Partnerships with other Ecosystem Players
To strengthen their role and broaden their relevance in the ecosystem, reinsurers are increasingly looking at new revenue streams, especially when it comes to partnerships with insurtech/start-ups and distribution players. Reinsurers hold a wealth of networks with insurance companies, and this can be potentially tapped on to generate revenue for insurers.
Strategic partnerships benefit everyone: Insurers, reinsurers, insurtech/start-up and distributors. Every one of them gets to increase their market size and their respective customers benefit from the integratedness of the product or service offering – each party bringing a different value to the table.
Reinsurer partnerships can happen on 3 different fronts:
Types of Reinsurer Partnership
Areas of Collaboration
Examples/Case Studies
Reinsurer-Insurer

Client-service provider relationship.
Developing new insurance offerings.

Munich Re and Allianz Cloud developing a protection + policy exclusively for Google Cloud customers.
Swiss Re and Daimler Insurance Services launched Movinx, developing fully-digital automotive and mobility insurance products.

Reinsurer-Insurtech

Developing new offerings.
Integration on digital platforms.
Data analytic capabilities for underwriting.
Offering risk reduction digital technology (e.g. preventive digital health solutions).

Penn River Inc, a leading life and annuity software company, and Hannover Re US to launch a reinsurance addition to its ProductHub platform.
SCOR and Qumata (HealthyHealth), a digital life and health underwriting specialist, are using new data-driven solutions to accelerate underwriting decisions.

Reinsurer- Distribution Partner

Networks of insurance providers for distributor players to tap on.
Facilitating tech integration between the insurer and distributor.

Swiss Re's iptiQ, digital insurance provider, and IKEA launched HEMSÄKER, an affordable and easily accessible home insurance that is accessed fully-digital.
We want to draw your attention to reinsurer-tech partnerships as reinsurers' investments in the technology space have been skyrocketing. Some drivers contributing this growth include (Insurance Journal, Jul 2018):
Reinsurers have the investment capital to support startups' growth and operations, and risk capital to support insurtech products that cover insurance risks.
Reinsurers are under pressure to justify their place in the value chain.
Technology as a means to get closer to their clients and deliver value in a different way.
Reinsurers have the technical expertise and networks that startups can tap on to navigate the ecosystem.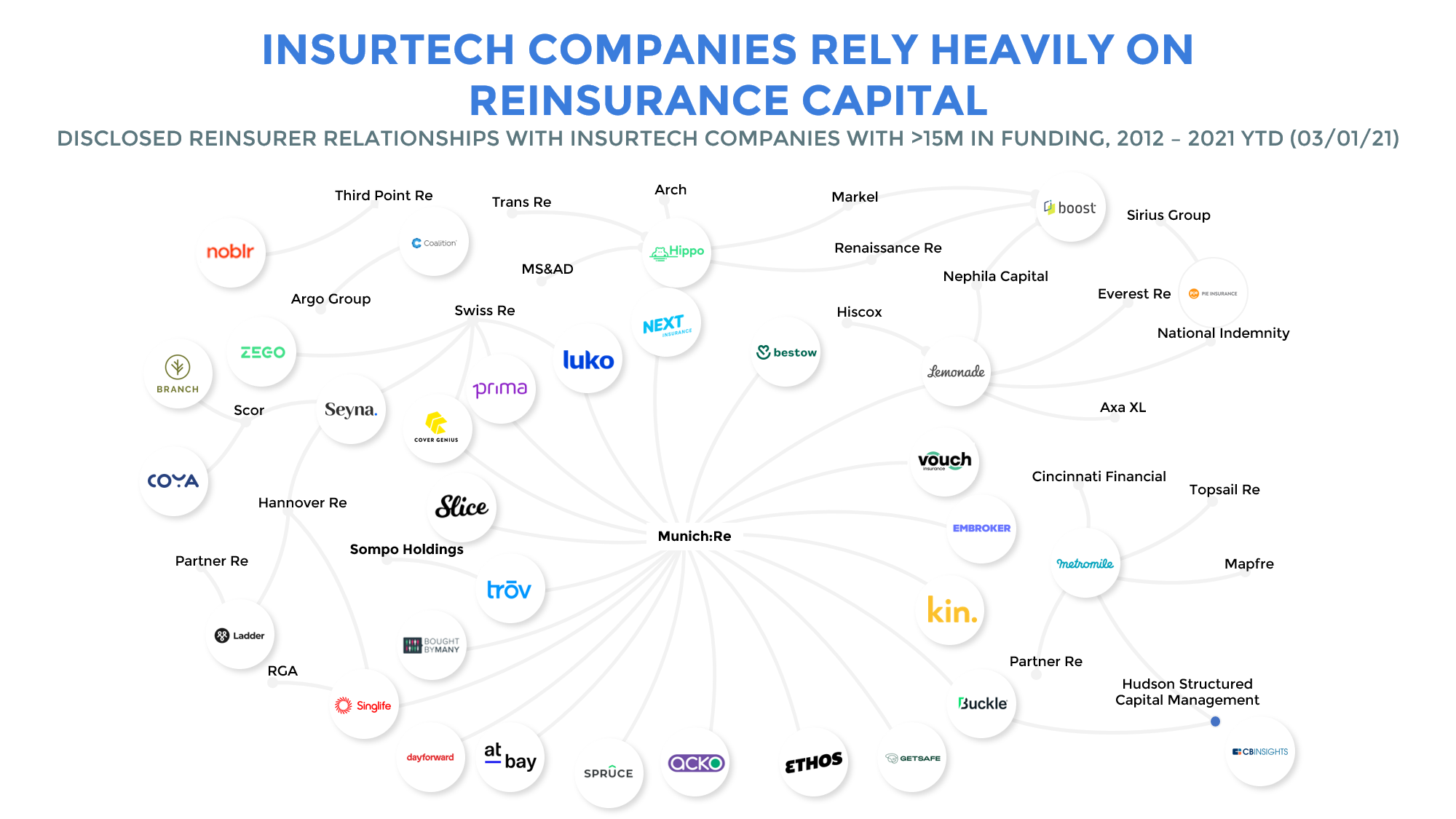 Breakdown of reinsurance-insurtech partnerships
(Source: These Reinsurance Incumbents Are Fueling The Rapid Growth Of Insurtech Startups, Mar 2021, CB Insights)
Reinsurers Digital Partnership Strategies
Investing in InsurTech
While insurers suffered a heavy loss from the year of the pandemic (second to the largest loss event in the industry's history, the Hurricane Katrina), insurtech investments hit a record-high and "accelerated the industry's digital transformation by at least five years" as incumbent insurers are forced to open up digital distribution channels amidst social distancing times to reach out to their customers.
Venture capitalists (VCs), P&C and health insurance providers make up the lion's share of insurtech investments. Reinsurers' investment contribution remains low relative to the other players in the ecosystem. However, there is growth potential as the absolute number of their investment contributions has been increasing by about 10% year-over-year—from 86 in 2019 to 94 in 2020.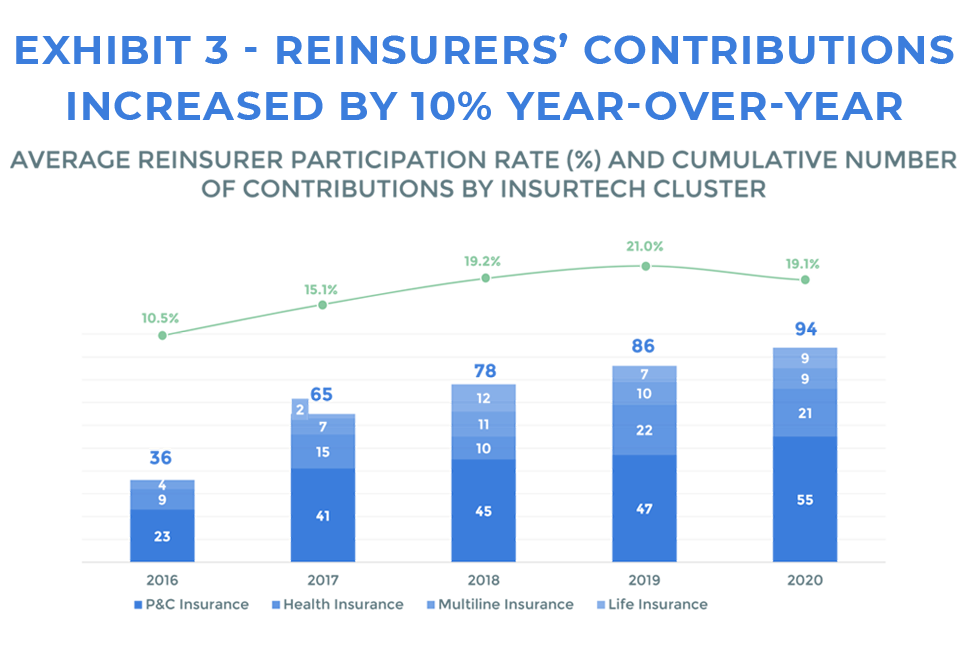 Source: The Pandemic Pushed Insurtech Funding to an All-Time High, Mar 2021, BCG
Setting Up Their Own Partnership Entities
Reinsurers may also have their own corporate venture arms, innovation hubs and accelerator programmes to provide capacity to the start-ups. The purpose of setting up separate partnership entities really stems from tapping on the startups' ideas and focusing on their needs, rather than solely getting startups in to fulfil the objectives of the corporates.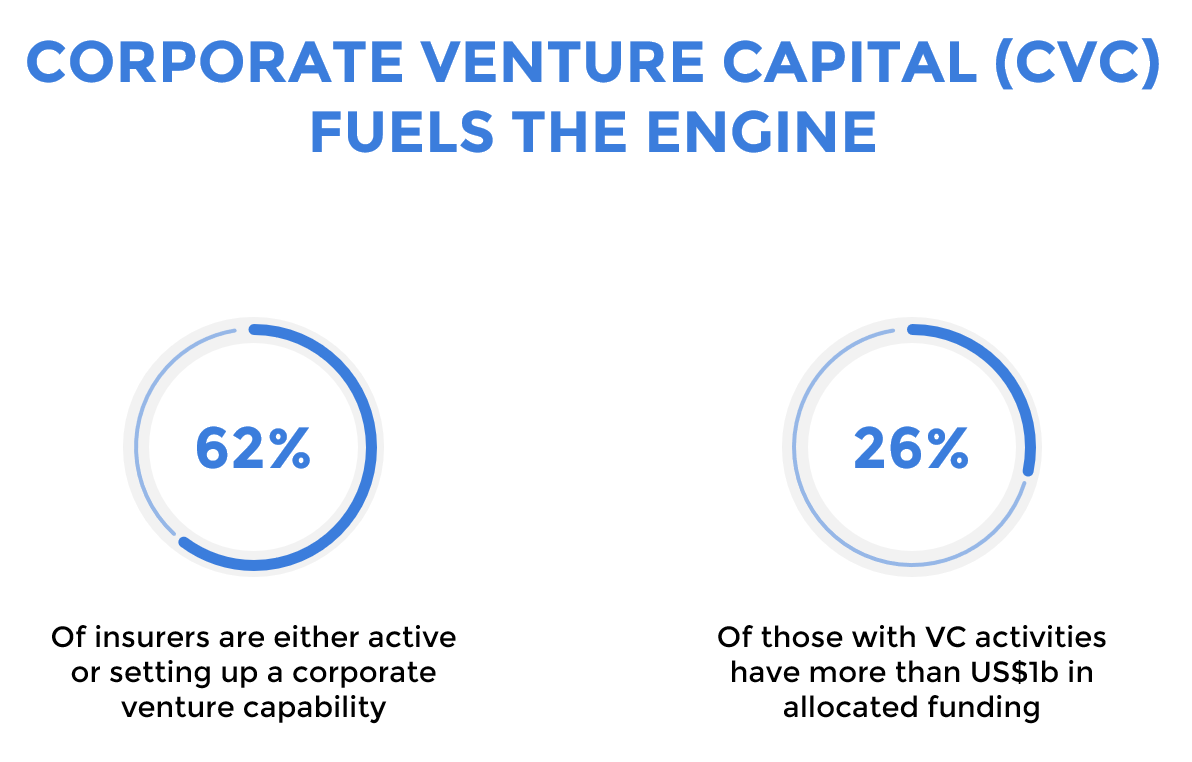 Source: InsurTechTop9 Roundtable: 3 questions every start-up wants to ask a VC, The Digital Insurer
Of course, certain boundaries to what the aforementioned partnership entities cover, e.g. what kinds of technology, which stages of funding, regions/countries covered, are set in place to align resources accordingly with corporate needs. Some key examples of accelerator programmes and innovation hubs that are led by reinsurers include:
Swiss Re InsurTech Accelerator being the first-ever initiative by a reinsurer to foster technology innovation amongst startups in the insurance tech area in India.
Munich Re Digital Partners providing insurtechs and digital distributors with a comprehensive, go-to market partnership, built on the financial strength and expertise of Munich Re.
Nassau Re/Imagine initiative, an insurtech incubator launched by Nassau Re, to support selected startups focused in the life insurance, annuity and reinsurance industries.
 Starting-up on their own
Talking about disruptive innovation, what's more disruptive than a corporate spinning its own start-up vying for a slice of the pie in the burgeoning pool of insurtech startups?
This is exactly what Swiss Re did with IptiQ, operating on a B2B2C business model, offering digital insurance solutions in the areas of end-to-end life, health, property and casualty.
It's also shaking up the partnerships' space. Now, the playing field for insurance solutions has been levelled as banks and other retailers with high-quality customer data can sell insurance products without having to set up their own technology platforms and/or subsidiaries.
Create Their Own Digital Technology Tools
Before we delve into reinsurers coming up with their own technology tools, we want to point you to the flipside where Big Tech like Google, Amazon and Tesla have been looking at initiatives to access reinsurance capital to manage their risks and deliver greater value to their consumers through customisation and better-priced insurance products.
A clear example of a technology company launching its reinsurance arm is Tencent's FuSure Reinsurance who has already obtained a license to provide reinsurance services in Hong Kong. FuSure Re is expected to underwrite business globally, although with a relatively niche focus of health reinsurance products to begin.
Tapping on the wealth of networks reinsurers have, Hannover Re launches  hr | equarium, an insurtech marketplace that is exclusive to Hannover Re's global network of insurance clients, which facilitates connections with innovative insurtech partners. Both their insurtech partners and  insurance clients stand to gain from this partnership with Hannover Re's long-standing reputation and their lead in curating the kind of technologies on the platform.
Future Outlook for the Global Reinsurance Sector
One of the most imminent trends is partnerships taking the form of distribution arrangements. The customer is at the heart of the ecosystem, and (re)insurance products are increasingly being packaged into third-party services and platforms to add greater value to a more holistic product or service offering.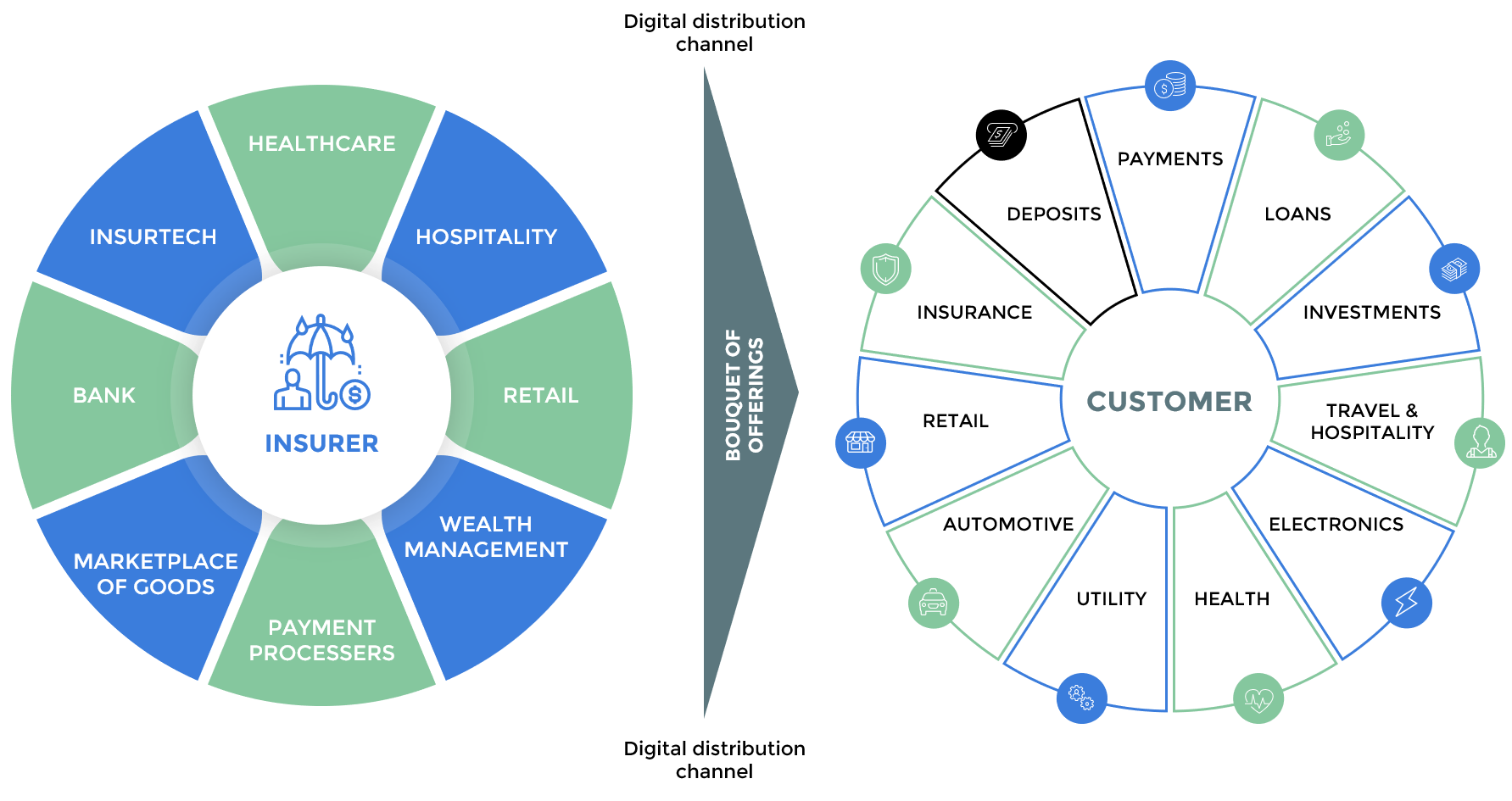 Range of services insurers could provide to customers in an ecosystem of partnerships (Source:
The recipe for insurtech success in 2020 and moving towards a 'marketplace model', 2019, Capgemini Financial Services Analysis; 2020,  NS Insurance)
An integrated insurance ecosystem is enabled by digital capabilities. The Global Integrated Insurance Operator Survey (2020) which ran through with 300 Life & Health insurance executives globally shows that 86% of them believes that implementing a fully-digital integrated ecosystem sits high or middle in priority in their strategic plans.
There is immense potential in the market for reinsurer-distributor-insurer partnerships. With conventional insurer-distributor partnerships, embedding insurance in the distributor's platforms and services has enabled the distribution chain to be significantly shortened to allow for more efficient service delivery to the customer.
What Reinsurers have over Insurers
Challenges Faced by Reinsurers

No channel conflict: Reinsurers do not need to compromise with agency channels.
Ability to deliver multi-geography or multi-product solutions: Reinsurers are well-positioned to put together a few different insurers with their extensive networks and familiarity with their clients' expertise.

Culture DNA: Partnership is not in their DNA.
Lack of outside thinking.
Limited primary market mechanism.
Reinsurers are well-positioned to partner with distributors in this regard given their wealth of social capital/networks and financial capital which gives them the well-earned reputation to appeal to both distributors and their insurance clients.