As the bedrock technology for digital currencies, blockchain is enabling the creation of value beyond  cryptocurrencies. From banking to e-commerce, every industry is researching ways to use this distributed ledger technology to create more robust systems. The insurance industry is leading its own blockchain revolution too.
While the blockchain technology has been tremendous in building world-class cryptocurrency and other digital solutions, it is still new in the insurance space. However, its ability to support a new and efficient insurance system can never be underestimated.
Blockchain is a database for recording and storing information. But unlike a normal database, the data stored in a blockchain is copied and distributed among the network of participating computers. This makes it nearly impossible for a single participant to effect changes in the database.
Thus, in a blockchain, data is managed by the multiple computers participating in the network and not a single database manager – a decentralized way of database management that is made possible by a distributed ledger technology. Blockchain is a type of distributed ledger technology.
Blockchain's first successful implementation was in 2009 with the creation of Bitcoin. Since then, the technology has been separated from cryptocurrency and now enables the creation of numerous digital assets in many industries, including the insurance ecosystem.
The insurance industry in the digital age – the pain points
Today, while technology has advanced tremendously, there are still problems in insurance that we haven't been able to solve.
Reviewing and processing insurance claims is a highly manual and cumbersome process. Agents usually have to manually cross-check claimers' medical reports and certificates, as well as police reports. Aside from how time consuming this process is, a manual system like this breeds lots of errors and requires various iterations to get things right.
Additionally, fraud is a huge issue in the insurance industry, costing customers and insurers huge sums of money annually. The gaps in data and the inconsistencies in information provided, as well as limited digital resources for verification opens a lot of vulnerable loopholes for fraudsters.
About 470,000 insurance frauds were identified in 2018 in the UK per data from the Association of British Insurers (ABI). In the US, insurance fraud (not including health insurance) costs over $40 billion every year according to the FBI.
According to a 2017 report by Reinsurance Group of America (RGA), Asia Pacific is one of the regions with the highest insurance fraud cases.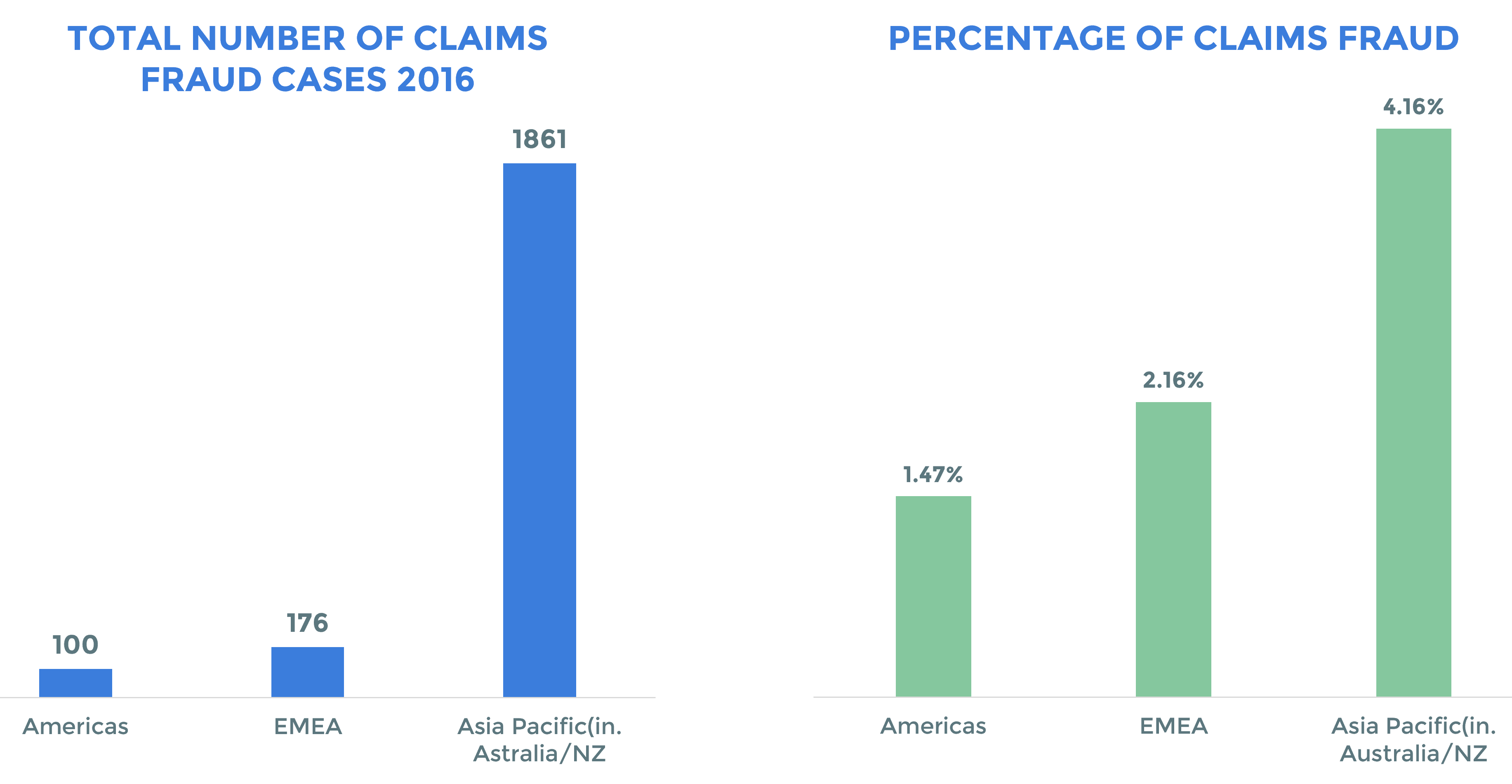 Source: Number & Percentage of Claims Fraud Cases: Reinsurance Group of America.
Aside from manual claims and fraudulent insurance issues, there are added problems of using middlemen such as brokers and the lack of a unified data source for accessing and processing insurance information. These issues are widespread across the insurance value chain, as depicted in the below diagram.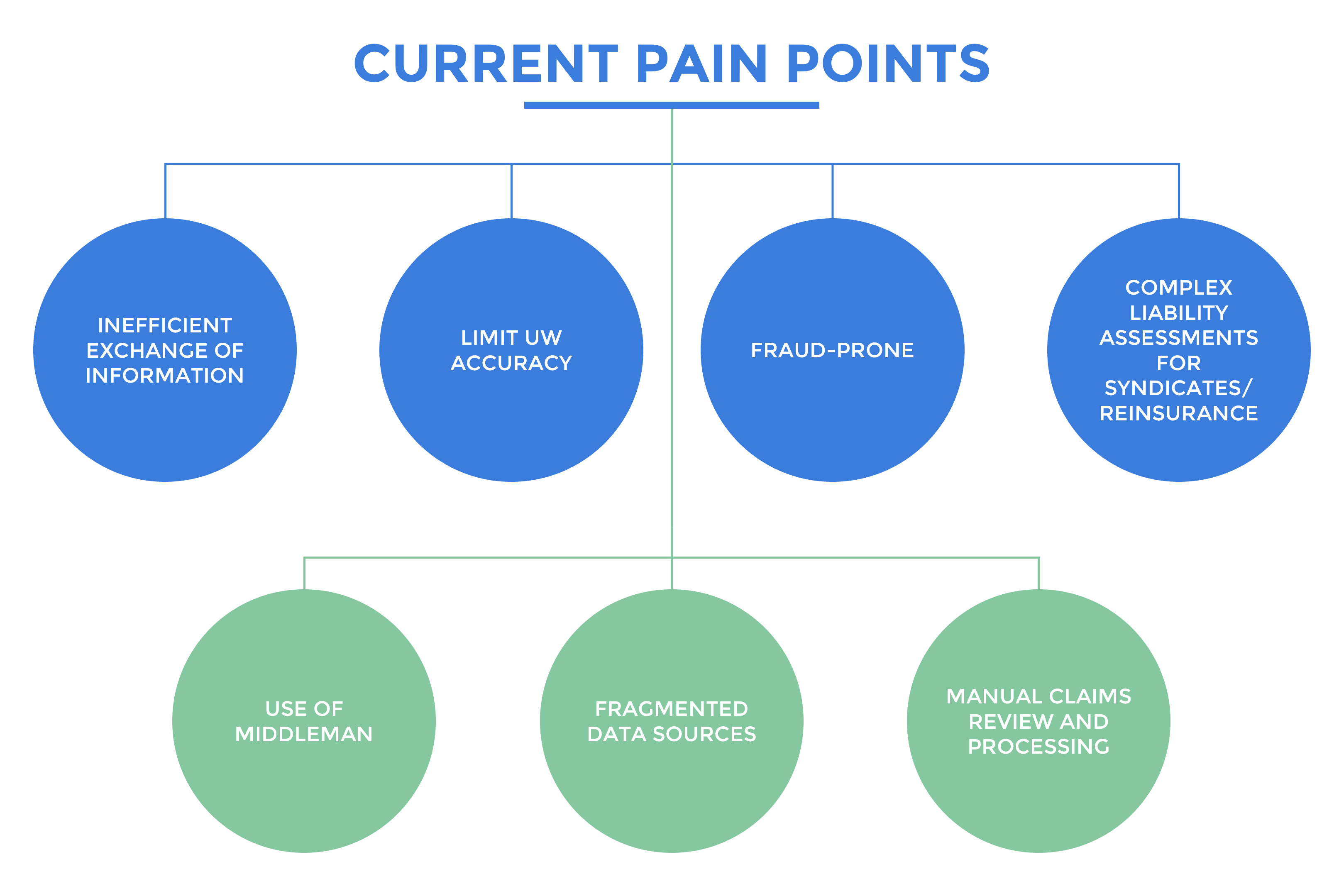 Source: Deloitte: Blockchain in Insurance. Why Should You Care?
Can Blockchain Technology Save the Day?
Blockchain is touted to help solve many of the insurance problems that we have outlined above. The technology is still new, but its potential in the insurance industry is clear. Let's look at what this technology can offer the insurance industry.
Fraud prevention in insurance through blockchain
As we learned above, one of the biggest issues in insurance is fraud, and it costs the industry huge sums annually. With blockchain, insurers can store data in a distributed ledger that is controlled by all parties involved (insurers, brokers, customers), which creates a digital history of all the transactions and assets.
For any transaction to happen, these parties have to verify through their encrypted signatures. They can share data, approve transactions, and make claims processing without having to trust a single source because each of them is a signatory to this ledger.
This way of storing and accessing insurance data on a shared ledger will enable insurance firms and all their third parties work together and find fraudulent activities in the insurance value chain including:
Identifying unlicensed brokers selling insurance.
And processing of the same insurance claim multiple times.
Eliminating manual insurance processes with blockchain
The traditional, labor intensive way of processing insurance claims could get a helping hand through an element of blockchain called smart contracts. A smart contract is a blockchain program that executes a contract or an agreement when certain predetermined conditions are met. This is to automate the entire contract ecosystem without an intermediary.
With this type of blockchain program, insurers can turn their already existing paper contracts into code that will automate the entire claims processing ecosystems. No matter the number of parties involved, there wouldn't be the need for a third party to verify claims. However, the smart contract will only be triggered once every party fulfils their side of the claim's agreement.
This doesn't just reduce cumbersome paperwork, but reduces risks of fraudulent activities. A smart contract enabled insurance distribution system looks something like this: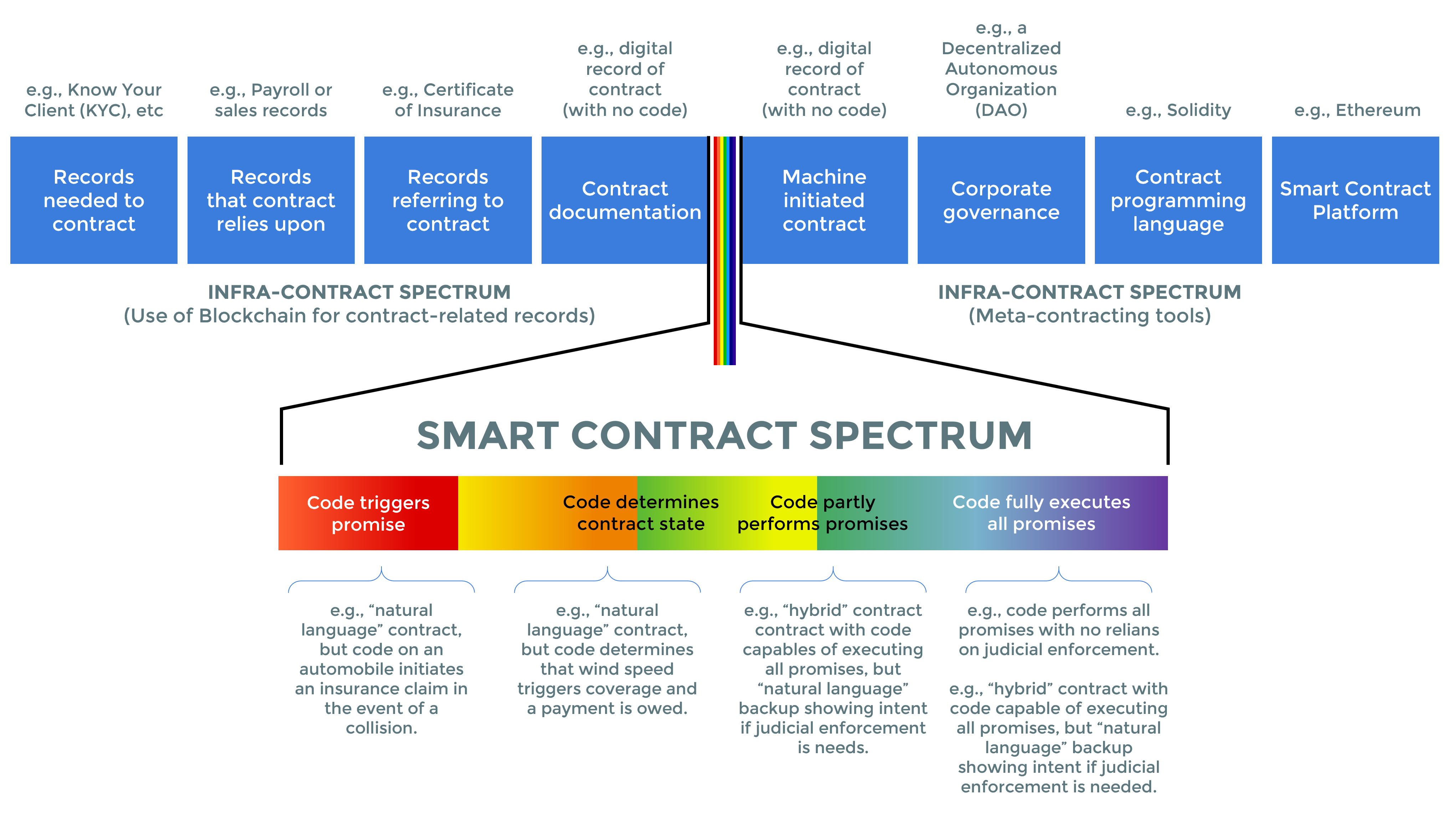 Source: Smart Contracts in Insurance: Making sense of the terminology and developing use cases – Norton Rose Fullbright.
Blockchain-insurance partnerships are already leading this charge
The road to leveraging blockchain for insurance is already being paved.  Insurance firms are partnering with blockchain technology institutions to build the future of insurance. These insurance partnerships are geared towards fraud prevention, identity management, insurance claims automation, and more.
This is how these partnerships are happening:
Legacy insurance firms collaborating with blockchain startups or building their own in-house blockchain systems.
AXA Partners has collaborated with the Swedish Public Employment Service, JobTech and technology supplier Stratumn, using blockchain technology – to advance its insurance offerings. It also created an app called Fizzy using blockchain technology. The platform's purpose is to make parametric insurance against delayed flights automatic and secure.
Ping An Group also collaborated with blockchain and fintech firm R3 to work on insurance and other financial products. It has also collaborated with other firms, including SingularityNET  and Finleap to build blockchain solutions.
Insurance firms and other providers of insurance policies (such as TELCOs) collaborating with blockchain startups to build the future of insurance.
KPMG and digital finance and emerging technologies firm IntellectEU formed a partnership to develop tools in fighting insurance fraud.
KT Corp of South Korea also partnered with one of the country's largest insurance companies, KB Insurance, to build a blockchain Mobile Notification Service for insurance customers.
These types of partnerships are only getting started. Once blockchain moves from its early implantation stages into a fully-fledged technology, a lot of firms will get on board. But no firm is sitting ideal either, with a lot of legacy companies and startups alike investing heavily in their own blockchain solutions and partnerships.
Accenture reported in its Technology Vision 2019 survey that over 80% of insurance executives are planning to adopt or have already adopted blockchain in some way. It also reported that the market for blockchain in insurance will hit $1.39 billion by 2023 from $64.5 million in 2018. With partnerships, adoption, and use cases growing, blockchain is only going to provide more use cases for the insurance industry.
The road ahead for blockchain-insurance partnerships
The head and tail of it all is that the insurance customer is changing. New technologies are providing great options, giving the final consumer more power. For insurers, this is the time to embrace these new technologies to stay relevant.
But for consumers, this will translate into better customer services, faster insurance claims delivery, improved efficiency, and reduce their expenses on claims and more. It's common industry knowledge that the insurance sector is slow when it comes to adopting new technologies. However, things are changing as customers gain more power.
The race to win the modern insurance customer is the catalyst for the ongoing partnerships between and among insurance firms and the fintech space. While creating a more viable ecosystem for insurers to thrive, these kinds of partnerships will also create a "customer's world", where the customer will be at the center of the development, improvement, and changes in insurance policies.