Psyche of a Canadian Endemic Traveler: 2022 Travel Insurance Outlook
Next in line for our research feature is Canada. The insights gathered in this post were based upon a survey questionnaire sent out to 400 participants from Canada to understand how consumer sentiments towards travel insurance have changed in the endemic. This makes up part of our 2022 Travel Insurance Whitepaper, in which you can find the key highlights gathered from the global research deck in our post here.
Outlook of Travel Insurance in Canada
68% of the Canadian consumers who were surveyed would purchase travel insurance for their vacation in 2022. Of those who are not planning to travel, a strong majority (87%) would get travel insurance if they had to travel for essential reasons. Baby Boomers (56-69 year olds) are more likely to get insured against the uncertainty of travels – with 73% indicating that they will not travel without purchasing travel insurance.
The top three reasons to buy travel insurance are emergency and medical expenses, trip cancellation and COVID-19 cover. Deep-diving into different traveler profiles, higher management workers prioritize trip interruption coverage a lot higher. With business travelers, they regard both trip interruption and personal accident coverage highly. For adventurous travelers, baggage and loss of personal belongings coverage hold significant importance.

Top reasons to buy travel insurance
An almost equal split of Canadian travelers hold brand loyalty to insurers, but there are still preferred brands that stood out. As with most markets, price of plan and COVID-19 benefits top the motivations for purchase.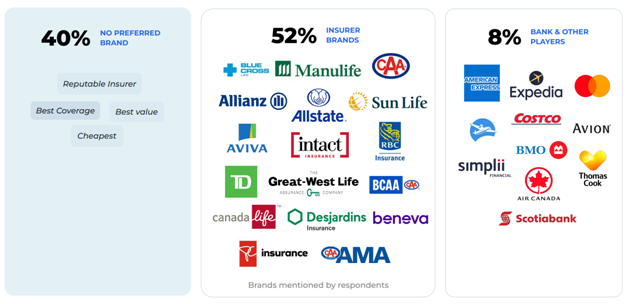 Where Canadian consumers get their travel insurance from
By traveler profiles, the ease of online claims service and international support hold significant importance to Gen Z travelers aged between 18-24 years old and with higher managerial workers. Whereas for business travelers, they value insurers' guidance through COVID-19 travel formalities. For group travelers, the reputation of the insurer holds significant importance to them.
Aside from the features of the policy, what else would incentivise Canadian consumers to get travel insurance from you? The top three additional travel insurance services that are most valued by travelers are arrangement services for COVID-19 formalities, real-time safety alerts of destination country, and 24/7 telemedicine services. We see how the pandemic has opened up opportunities for the ancillary market to complement the travel insurance offering which is coming up as a necessity that is more important than ever for traveling.
Additional travel insurance services most valued by Canadian travelers
Where is Canada now at in Embedded Insurance?
Canada is ranked top three with France and the UK, when it comes to global travelers that associate travel insurance with their credit cards and banks. Following banks, travel players are next in line for channels preferred by Canadians to purchase travel insurance (airlines first, followed by online travel agents, travel visa vendors and then hotels).
While most of those surveyed still prefer to buy via direct insurer channel, 72% of them are open to buying travel insurance from non-insurers. However, only 26% of them are likely to purchase from in-path means.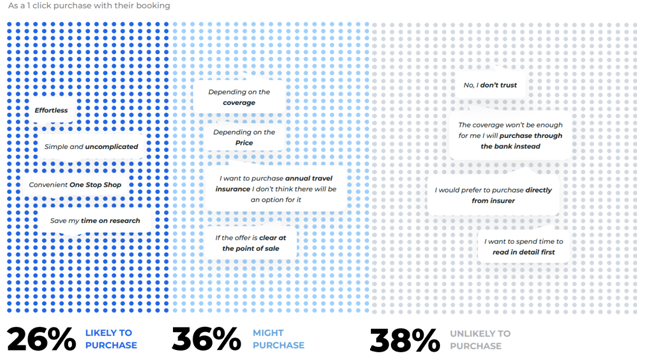 Likelihood of Canadian consumers to purchase travel insurance via 1-click purchase from travel players
While the reasons listed under "likely to purchase" are similar with other markets, we want to point to our readers on the reasons listed under "might purchase" that would present as opportunities for insurers and travel players alike for embedded insurance. We can see that Canadian consumers value clarity of the offering at the point of sale, as well as the option to "upgrade" an one-time travel insurance purchase via in-path means. You can find some of the best practices by OTAs for UI/UX of the purchase touchpoints of embedded travel insurance in our post here.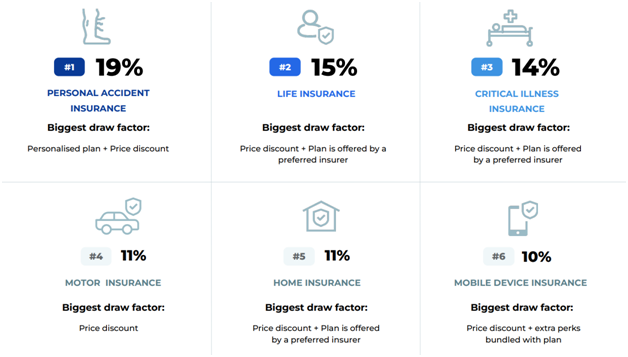 Openness of Canadian consumers to purchase non-travel insurance products from Travel Players
As we talk about opportunities, 64% of those surveyed are open to buying non-travel insurance products from Travel Players with the top three products being personal accident insurance, life insurance and critical illness insurance. We can see that the nature of the non-travel products preferred by Canadian consumers surveyed are generally of longer-term, greater necessity and related to higher cost and impact; contrary to a one-time purchase or protection on assets.