Psyche of the Japanese Endemic Traveler: 2022 Travel Insurance Outlook
In the Asia-Pacific region, Japan is one of the few who remain conservative in its border controls. However, of the Japanese travelers we have surveyed, the majority of those (91%) remain optimistic and have plans to travel in 2022.
More than 70% who are embarking on local, regional and international travels intend to purchase travel insurance. Clearly, having some form of travel insurance is pertinent for Japanese travelers to minimize as much of the uncertainty of being able to travel again. Most of the travelers do not have a strong preference for any brand.

80% would purchase travel insurance for their vacation in 2022
There are 2 statistics that stood out significantly different to its other Asia-Pacific counterparts surveyed. First of which, Japan has the highest percentage of travelers (18%) that associate travel insurance with their credit cards and banks. Secondly, Japanese travelers are less likely to purchase travel insurance via embedded/in-path means.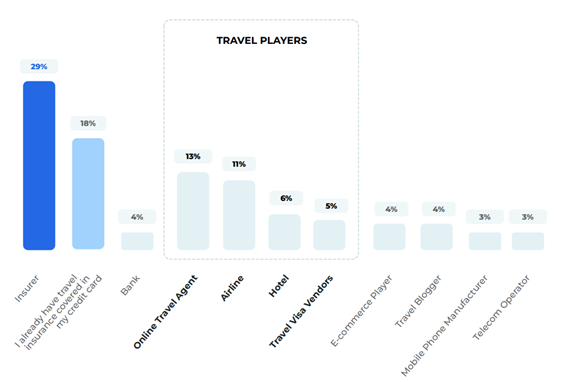 Preferred channels for Japanese travelers to get travel insurance
Yamete! Not all is lost. Find out more about the consumer sentiments in the Japanese market when it comes to embedded travel insurance. The consumer research is part of Ancileo's 2022 Travel Insurance Whitepaper, in which you can find the key highlights gathered from the global research deck in our post here.
Outlook of Travel Insurance in Japan
80% would purchase travel insurance for their vacation in 2022, and 92% amongst those not planning to travel indicated that they would purchase travel insurance if they were to travel for essential reasons. Across all age groups, travelers are risk-averse and would not travel without travel insurance.
Most travelers don't have a preferred travel insurance brand, and this seems to suggest that Japanese travelers are flexible with getting travel insurance from any provider based on the reputation of the provider, the ability to provide 24/7 support worldwide, a comprehensive medical insurance coverage, reliability of the service and/or what is recommended by others.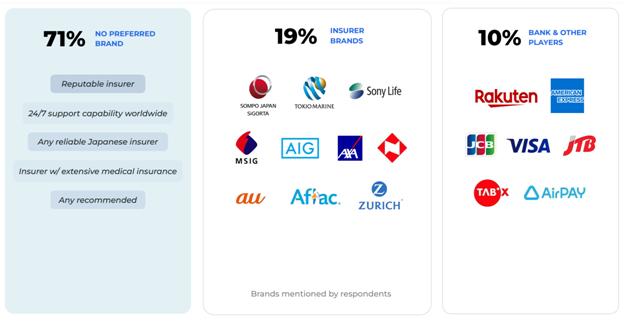 Preferred brands for Japanese travelers to get travel insurance
As with other markets, pricing is the top influencing factor when evaluating travel insurance plans to purchase. This is followed by high coverage amount and reputation of the insurers.
For reasons to buy travel insurance, medical coverage and baggage coverage are the top reasons to buy travel insurance. Going into specific consumer profiles, trip Interruption coverage is particularly valued by business travelers, and personal accident and death coverage is particularly valued by travelers intending to go on rural trips in the countryside and sport activities.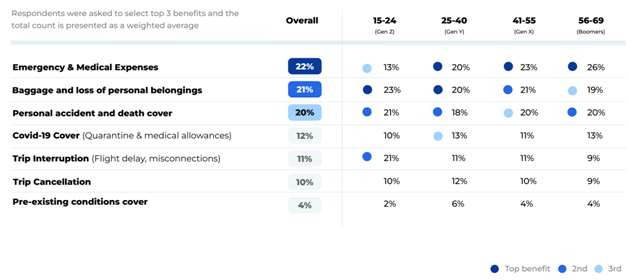 Top reasons for Japanese travelers to get travel insurance (by age groups)
The top 3 complementary travel insurance services most valued by travelers are real-time safety alerts of the destination country (15%), arrangement services for COVID-19 formalities (13%), and airport lounge access in case of flight delay (11%).
We can tell from the preferences of Japanese travelers that the aforementioned are still related to the implications of the pandemic on the traveling situation. All of which provides an opportunity for travel players and insurers to leverage upon to increase the value of their offerings to customers.  
Where is Japan now in Embedded Insurance?
When it comes to purchase via in-path/embedded means, it seems that Japanese travelers are deterred from the uneasiness consumers face due to the oversimplicity of the means of purchase, lack of information and detail to the plan, and limited availability of the plans offered via the one-click option.
As we see with other markets: For some consumers, convenience can be a deterrent and for others, it can be a draw.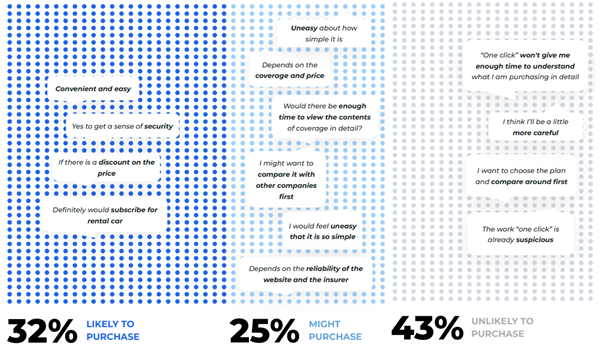 The top contenders motivating consumers to purchase from travel players are personalisation of plan (40%), and price discount compared to market rate (26%). Breaking down by consumer profiles: Gen Y travelers place equal priority on price discounts with personalisation of plan, while the higher income group and white collared workers value personalisation of plan over price discounts.
74% of those we surveyed are open to buying non-travel insurance products from travel players  top 3 non-travel insurance products are personal accident insurance, life insurance and motor insurance. Travel players dabbling in non-travel sectors is not something new, especially during the pandemic as travel players are diversifying their revenue streams to stay afloat in this difficult business climate. For insurers, travel players hold a wealth of consumer data and tech capabilities to leverage upon to cross-sell their product and service offerings.