Impact of COVID-19 on Ancillary Trends in Airlines
The impact of COVID-19 on aviation losses has been catastrophic. What does this mean for carriers and insurers when it comes to risk management and insurance premiums moving forward? This article addresses the changing risk profile for the insurance market, impact on reinsurance, changing trends and expectations for aviation operations and consumer travel, and leveraging on the potential of travel insurance partnerships to get back on flight.
Aviation Losses: Changing Risk Profile for the Insurance Market?
While technology and standards have driven improvements in safety and reduced catastrophic losses for airlines, it has also brought about new vulnerabilities and risks – these translating into higher costs for insurance claims.
Some factors contributing to these higher costs of insurance payouts include:
Increasing repair costs – As a result of the increasing complexity of aircraft. New materials and components need to be made to order, more time-consuming and expensive to repair when they break down.
Rising compensation payouts – As a result of more stringent litigation and improved accident investigation which can increase the number of parties involved in a loss – airline, manufacturer and other general aviation firms.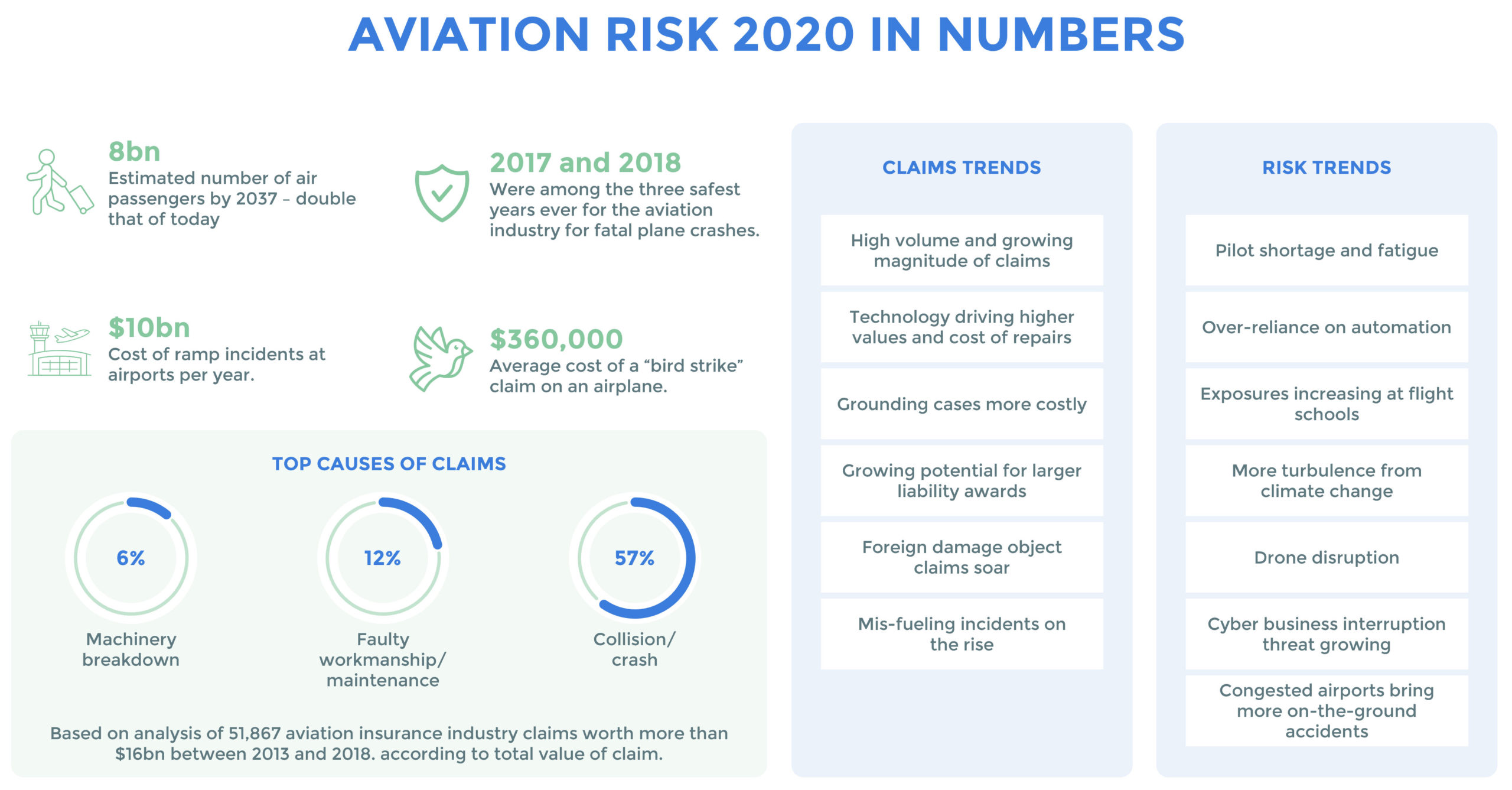 Source: Aviation Risk Report 2020, Nov 2019, Allianz
Due to the high liability limits of the aforementioned cost, the impact of aviation losses on the reinsurance industry has been significant. To prevent a claim from bankrupting a company, most insurers dealing with aviation policy products must themselves purchase reinsurance to help spread the risk.
COVID-19 losses have been catastrophic in which reinsurers have increased their rates in 2020. A higher cost of reinsurance means insurers are also forced to increase their rates for carriers. According to AIN online, while worldwide reinsurance rate increases in the property and casualty markets ranged between 5 to 30%, aerospace reinsurance rates increased a minimum of 25% for insureds who were loss-free and as much as 250% for those who had previous loss history.
Aviation Insurance Trends
While COVID-19 and natural catastrophes are within the external locus of control for carriers, safety performance and discipline can be a key factor within the control for carriers to mitigate the increasing insurance cost.
To differentiate yourself that you can be considered a "better" and lower risk than your peers, it'd help to buck up any evidence to demonstrate that you understand the risks and have ample strategies in place to mitigate them. Strategies include sharing evidence of positive trends from your quality and safety practices, investments in safety, risk mitigation and quality-assurance programmes.
Another key aspect is also greater transparency for carriers to share this information with insurers to build their confidence in the policyholder's risk strategy and their appetite for risk. You'd also want to back up your sharing with objective safety performance indicators such as  the IATA Operational Safety Audit (IOSA). These can provide a basic guide – But if you're considering merit discounts on premiums, you'd want to go beyond the average performance standards.
Changing Customer Expectations Post-COVID
The pandemic has increased customer complaints about travel insurance – over 80% of the general insurance complaints to Australian Financial Complaints Authority (AFCA) sparked by COVID-19 are related to travel. Within these complaints, 70% are related to not providing a cover for pandemics.
That said, one of the key changing expectations for the consumer travel insurance market circles around product evolution to cater to the changing demands and needs of travellers. The adaptation of the product needs to be aligned with the rules or regulations set by governments regarding travel to specific destinations as they are constantly shifting throughout the last 12 months which has made it challenging for the industry to provide the right cover to travellers.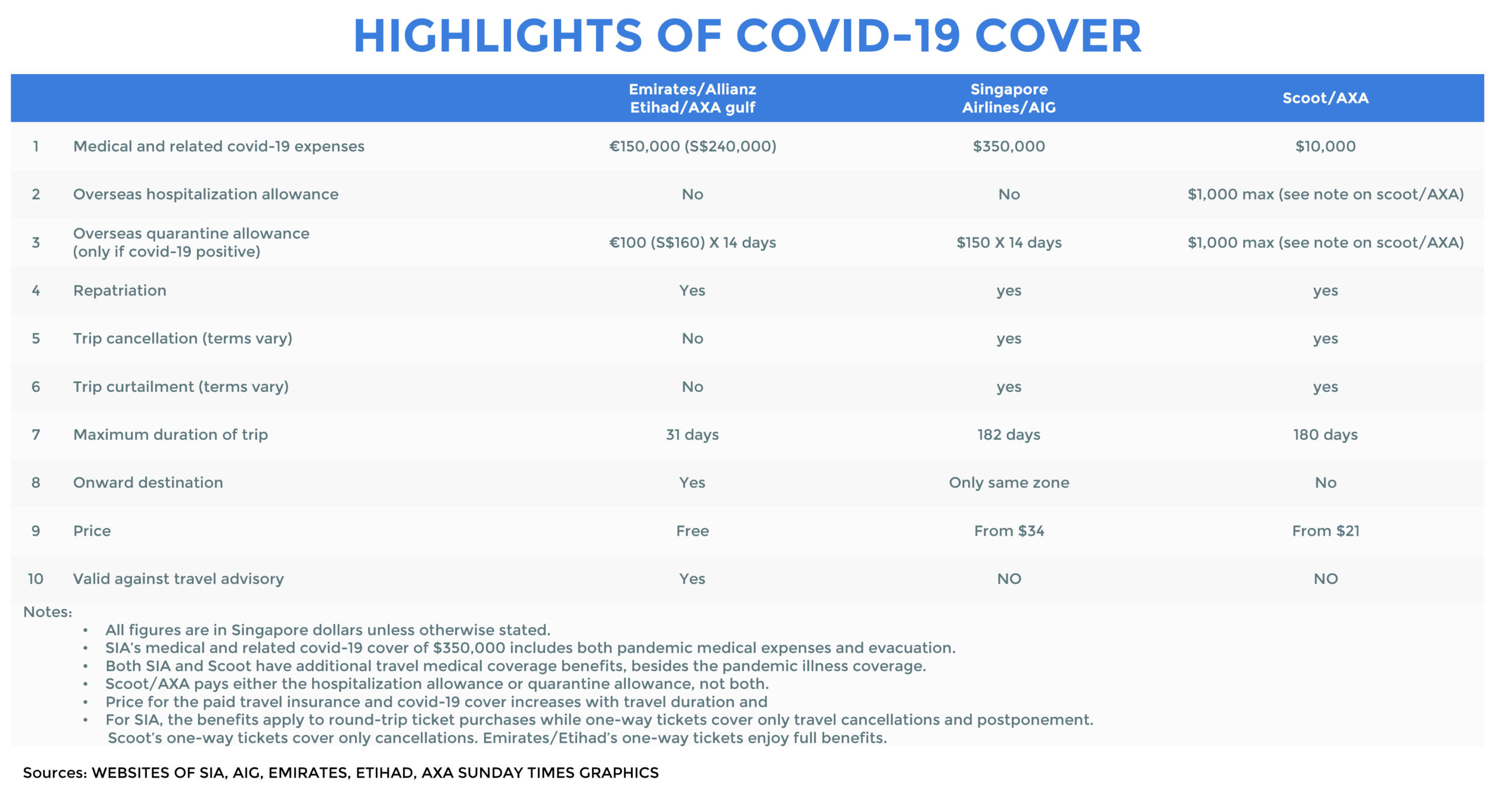 Source: Insure against Covid-19 when you travel, Oct 2020, The Straits Times
Another changing consumer expectation is the ease of purchasing travel insurance with travel players. Many players in the travel ecosystem, such as online travel agents, airlines and trip organizers, become distributors for travel insurance as a means of revenue diversification.
Having a travel insurance offering positions you at the forefront of customer care by extending your services beyond transportation to create more value in your core product for travellers. Additionally, it provides the much-needed help when your customer brushes with a stress situation during their travel. Whether they are events within or outside your control, travel insurance would most ultimately help to mitigate costs borne by your customers.
Personalizing Ancillary Shopping Experiences
We won't go too much into the potential of leveraging upon travel insurance partnerships to grow your ancillary revenue as you can find out more in our article here. Consider some of these ways that you can personalize the ancillary shopping experience for your customer:
On the booking engine,
Retargeting post-booking,
Dynamic pricing by using price sensitivity test, and
Cross-selling to other insurance products post-booking (e.g. personal accident, motor and annual travel insurance).
We want to highlight the potential of travel retailers making use of post-booking practices  to boost their ancillary revenue. Diggintravel and Switchfly Ancillary Revenue have put forward what some of these best practices and it all boils down to the adoption of digital and data-driven mindset which enables you to better understand the customer journey, create digital touch points along the way and leverage post-booking ancillary upselling and cross-selling.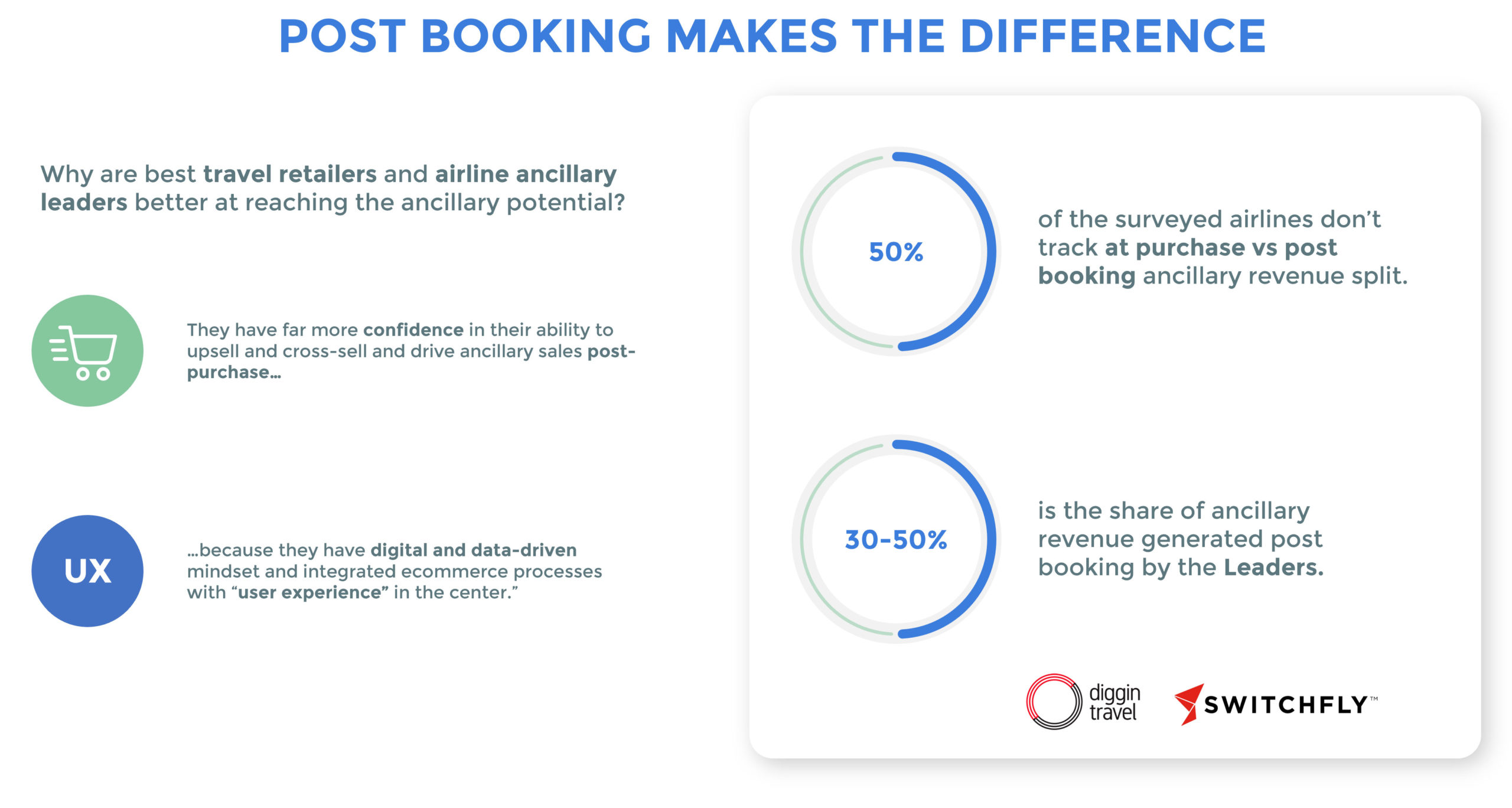 Source: How to Become an Airline Ancillary Revenue Leader – Trends from Ancillary Merchandising Conference in Mallorca, diggin travel
Some other touchpoints for airlines to include the travel insurance offering, while they may be less integrated than API, include social media marketing, emails, SMS messages, newsletters subscribed post-purchase, and standalone white-label sites.
What's Ahead: More Travel Player-Insurer Partnerships
We are all excited to travel again and this does hold some risks, pre- and post-COVID. From a medical emergency in a foreign country, to a natural disaster forcing you to leave, or as simple as a lost or stolen luggage, either one or more of these scenarios happen to tourists everyday! While seat selection and luggage upgrade have always been top revenue generators, travel insurance is becoming increasingly important.
Travel advisories are constantly evolving with the pandemic situation, as we see new strains of the virus, subsequent outbreaks and recurring lock-downs in many places. As things remain unpredictable in the foreseeable future, this leads to an increased need and importance of insurance for travel purposes.
The surge in travel insurance demand is not only fuelled by travellers, but also countries themselves as more than a dozen of them from Aruba to Thailand now require COVID-19 coverage for visitors.  Travel insurance consultant, Robyn Ingle, estimates that the market for all types of COVID-19 travel coverage to be between $30 to $40 billion a year.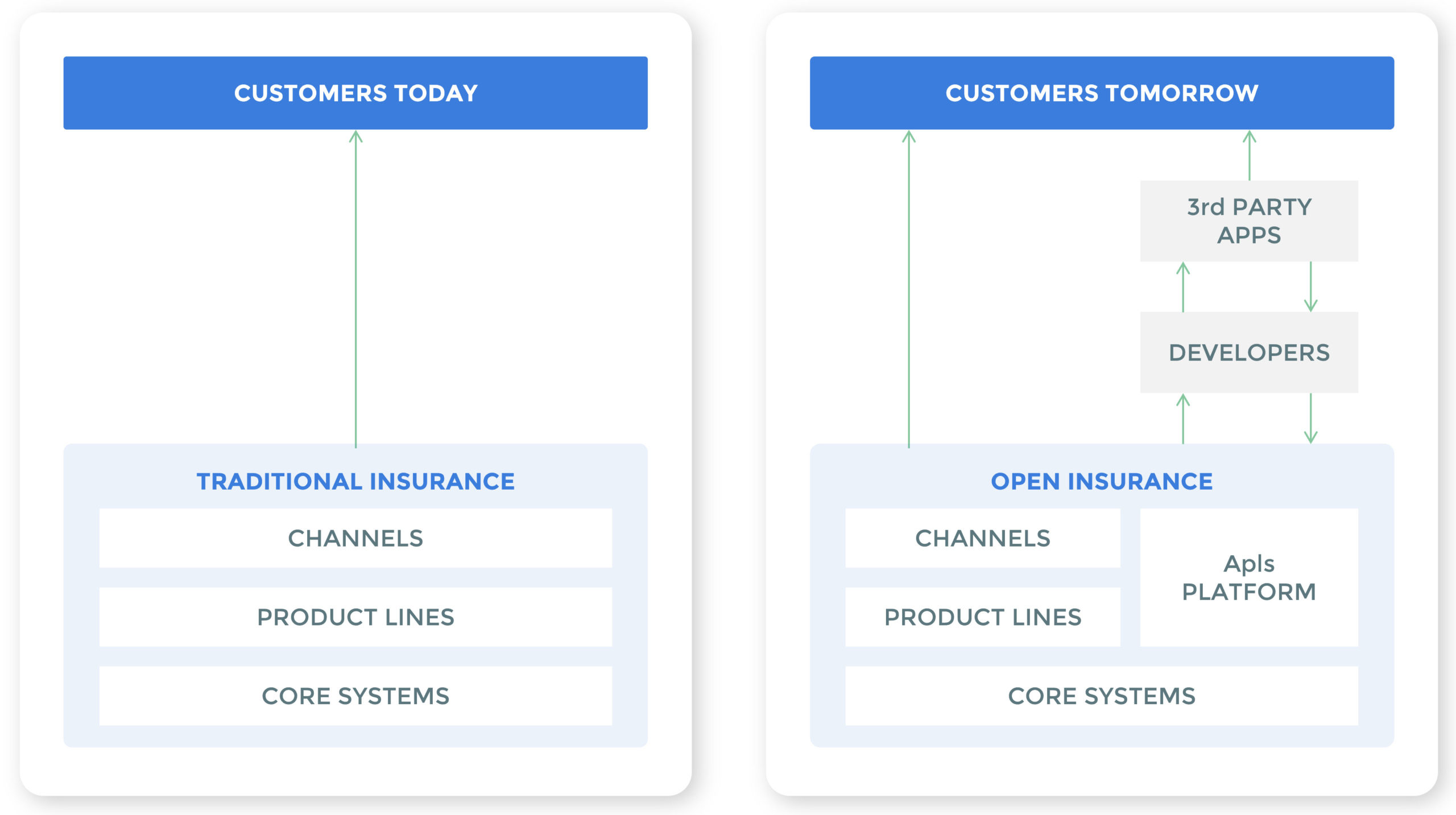 Source: The rise of open distribution channels for travel insurance providers, Mar 2020, APAC CIO Outlook
This being said, the alliance between travel distributors and insurance providers is imperative to stimulate and sustain travel. Market research consultancy, Finaccord, estimates that the annual revenue arising from airlines-travel insurance providers partnership may range from $1.2 to 1.5 billion in premiums. With the gradual offset of the pandemic, this can prove to be the silver lining in the cloud and the perfect time to review this existing relationship as to design a more compelling travel insurance offering.