Psyche of the Italian Endemic Traveler: 2022 Travel Insurance Outlook
When Italians speak of la dolce vita, they often talk about a way of life – the good life – that is easygoing and enjoying things to the fullest. Well, this principle is made evident in our research, with Italy coming up top in Europe with most of the global travelers planning to travel in 2022 (91% of the respondents surveyed).
Clearly, the pandemic isn't going to hold back Italian travelers and there are no qualms about resuming travel once borders are lifted.
Another statistic that stood out for us is that slightly more than ⅓ of Italian travelers indicated "24×7 Tele-medicine" as the most valued complementary service (add-on).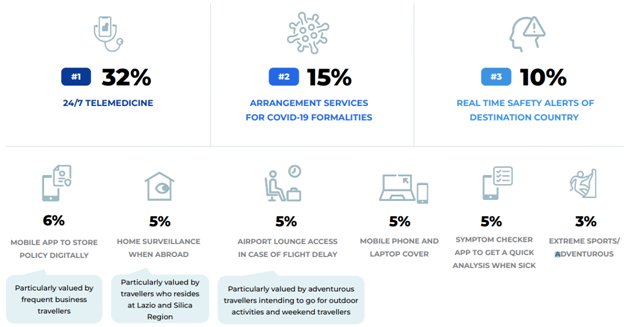 Additional travel insurance services most valued by travelers
Nicholas Baruffaldi, Chief Operating Officer of Italy's leading online travel agency, Snowit, reflected how demand for telemedicine has spiked due to COVID-19 and every traveler expects healthcare services made readily accessible such that time is saved for a simple routine visit or prescription at the doctor's.
Before we go any further into the prospects for travel insurance and partnerships, let us point out that what's covered here is only one aspect of a much expansive, global comparative study by Ancileo. Meanwhile, if clicking into a 180+ pages' research deck draws you out, you can refer to our post here for an espresso (snap)shot of the key highlights 😉 
Outlook of Travel Insurance in Italy
As a risk-taking bunch, there is almost an equal split of travelers who would purchase travel insurance for their vacation in 2022 (52%). These travelers are predominantly those who are embarking on regional and international travels (67% and 56% respectively, compared to only 44% for domestic travels).  By age group, boomers (aged 56-69) are most likely to not travel without purchasing travel insurance.

Brands patronized by Italian consumers in the regard of travel insurance purchase
In terms of preferred channels, Guido Dell'Omo, Retail and Travel Manager of Southern Europe at AXA, posited that Italian travelers tend to be more loyal to travel players and agencies than to a specific insurer brand. However, all is not lost for insurers. AXA Partners, in this case, has leveraged partnerships with around 2,000 travel agencies across Italy via their online travel insurance portal – Tripy.
Why purchase travel insurance? Price of plan tops motivation for purchase, but ease of online claims and COVID-19 benefits hold high importance. To keep prices low for consumers and cater to the evolving needs of the pandemic situation, AXA, for instance, has frozen premiums and made plans more flexible to support insurance distribution during this challenging period.
Dissecting motivating factors for travel insurance purchase by consumer profiles:
Baggage and loss of personal belongings coverage is particularly valued by travelers intending to go on escorted group tours
Travelers intending to travel domestically prioritize trip cancellation coverage
Although personal accident coverage is ranked lower overall, it is prioritized by business travelers
Travelers aged 40 and above highly prioritize cancellation benefits, mostly for luxury travel
Compared to its European counterparts like the UK and France, travel insurance is not commonly associated with banks and credit cards in Italy. While insurers are still the most preferred channel for them to buy travel insurance, travel players like airlines and OTAs are best-positioned to offer more personalized plans to travelers. Insurers can leverage on the wealth of travel-specific consumer data they hold to hone a much more customized product or service for their customers.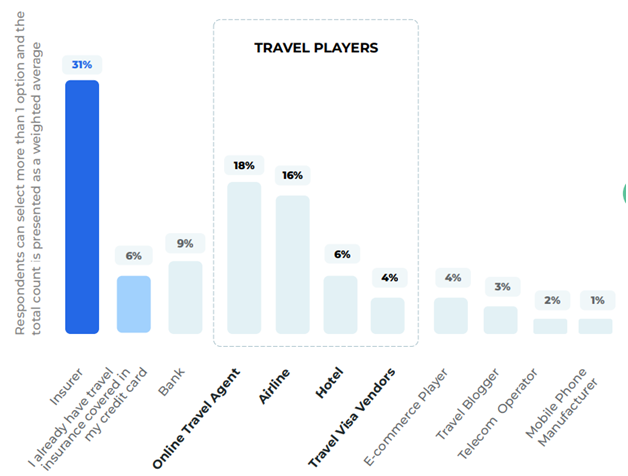 Insurers direct channel still preferred but open to purchase from travel players
Where is Italy now in Embedded Insurance?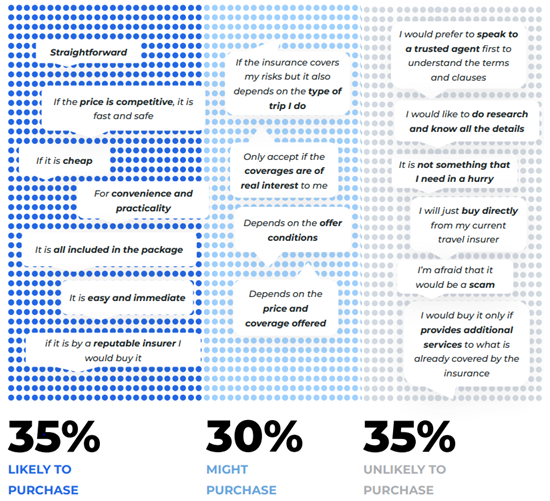 How likely are Italian travelers to purchase in-path from travel players?
How likely are Italian travelers to opt-in for travel insurance purchase in their booking paths? Low premiums is usually the main draw factor for conversion for in-path travel insurance when travelers purchase through travel agencies.
The convenience and ease of purchase via one click remain as a double-edged sword, as some consumers still perceive it to be a "too good to be true" option. We also see that in-path coverage tends to be a one-size-fits-all option (aka one plan offered at the point of purchase), often low cost and therefore, of a less comprehensive coverage. That said, some consumers like luxury travelers may deem it unsuitable for their travel needs.
What would push them to purchase from travel players? 20% of travelers surveyed that belong to an airline members program indicated that the biggest enticing factor is when the insurance plans come with loyalty miles. Whereas for the higher income group travelers, they value personalisation of plan over price discounts.
Consider embedded travel insurance not as a separate, complementary, a "nice-to-have" add-on to your flight tickets or hotel bookings, but as an integral part of the travel experience. Aggressive pricing can only do so much to draw in potential customers but as we'd have known by now, the post-purchase experience matters as much. Travel players can leverage on times like these to increase conversion rates by offering flexible cancellation for any reason, quarantine costs during travel, and travel curtailment benefits.