Psyche of the UK Endemic Traveler: 2022 Travel Insurance Outlook
Beyond North America, we look towards our first European country – the United Kingdom – to cover how travel insurance is regarded by consumers in 2022. The UK stands out in our research for multiple reasons.
Second to France, UK consumers have a strong affinity to turn towards banks and credit cards for travel insurance. Interestingly, the UK also is ranked the lowest compared to other markets surveyed in terms of (1) openness of global travelers to buy travel insurance from travel players (airlines, OTAs, hotels, visa centers) and (2) also to buy via in-path means. In this post, we want to explore in greater depth why that is so.
The consumer research is part of Ancileo's 2022 Travel Insurance Whitepaper, in which you can find the key highlights gathered from the global research deck in our post here.
Outlook of Travel Insurance in the UK
As with other markets, the majority of UK consumers (average of 74%) surveyed would purchase travel insurance for their vacation in 2022. The figures indicated in the barcharts below reflect the traveling situation with the UK consumers surveyed during the pandemic.

UK consumer research: To buy or not to buy travel insurance for the different types of travels
Greg Lawson, Head of Travel Insurance from Collinson, reported a spike in domestic and localized travels within the EU region in the last two years. However, the situation will likely see a turn in Summer 22 due to pent-up demand for international travels. Meanwhile, Ges Lonsdale, Global Head of Travel Organizations of AXA, subscribed to the view that in the short to medium term, domestic travel will continue to enjoy a higher than average share of the market driven by a range of considerations in risk and health, simplicity experience and inflation forecast.
Price is the dominant factor for UK consumers, and the insurance brand matters less when it comes to travel insurance (63% of consumers surveyed have no preferred brand).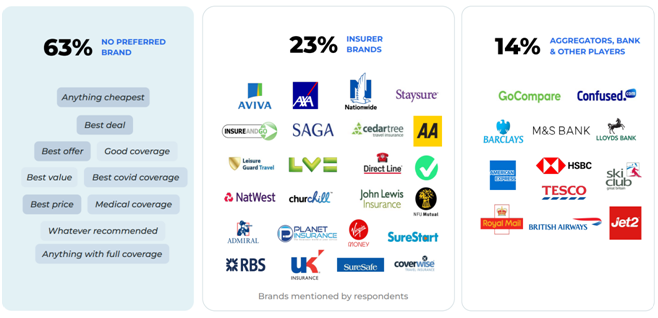 Brands mentioned by UK consumers for travel insurance purchase
As we look into other factors influencing the purchase decision of the customer, insurer reputation comes up next in line and this is especially important for travelers aged 65 and above. On the other hand, white-collared workers, particularly the higher managerial and middle class workers, have a preference for a plan with higher coverage amounts. During this endemic period, guidance through COVID-19 travel formalities has also emerged as one of the top factors being considered.
In the UK, medical and accident coverage has been prioritized highly as a reason to buy travel insurance and a key driver for travel insurance growth in the country due to its repeated focus by the UK's Foreign, Commonwealth & Development Office (FCDO) for residents traveling abroad. However, since COVID-19, trip cancellation has come up top in line for reasons to buy travel insurance.
In terms of avenues to buy travel insurance, slightly more than ⅓ of the consumers surveyed (37%) still prefer to buy directly from insurers. Having said that, this does not dismiss the potential of partnerships between insurers and other channels like travel players. AXA, for example, is launching its customer portal in 2022 which is looking to be a partner-integrated space for customers to access the digital tools, download documents, access travel information, arrange a tele or video consultation and submit and track the progress of claims.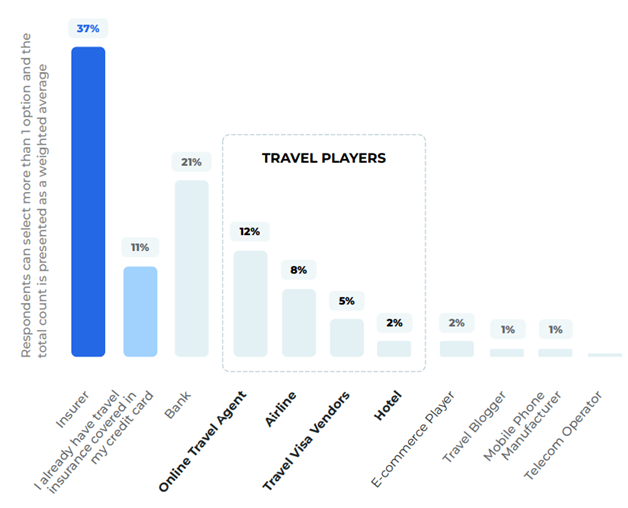 Where do UK consumers get their travel insurance?
Where is the UK now in Embedded Insurance?
Compared to other markets surveyed in our research, the UK has the highest percentage of consumers who are least likely to buy travel insurance via in-path or embedded means.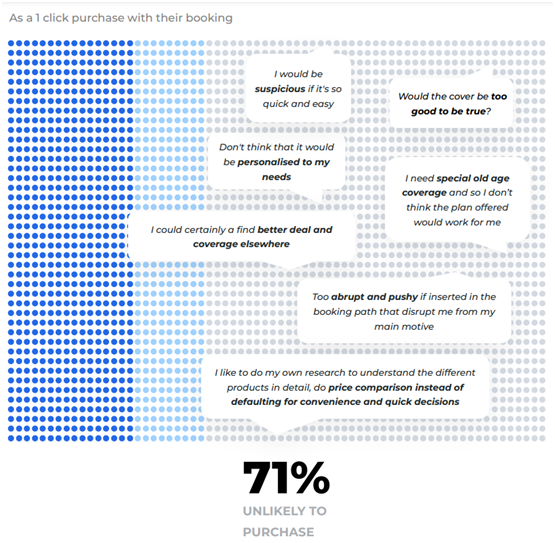 Reasons that make it unlikely for UK consumers to buy embedded travel insurance from travel players
As with reasons cited by the other markets covered in our previous posts, the ease and convenience of purchase can become a double-edged sword making consumers skeptical of the means being "too good to be true." Consumers are empowered to do the work to educate themselves of the options available and to take the time to make the purchase decision. Lastly, consumers may find that the policy plans offered via in-path means are too limiting for their diverse needs.
For the remaining 29% who would consider buying from travel players, competitive pricing emerges as a strong motivating factor. Where pricing matters less, luxury travelers and upper middle class workers indicated a willingness to purchase from non-insurers if the plan offered is underwritten by their preferred insurance company. For adventurous travelers, they still prefer to purchase from insurers directly as they require a plan that is more personalized to their needs for outdoor activities coverage.
It's not all doom and gloom in the UK despite most consumers still preferring to buy from insurers themselves. That said, insurers are best-positioned to support their partners to boost conversion rates via in-path or embedded means. Ges Lonsdale from AXA has posited that insurers can help to provide the necessary expertise to focus on the right content to maximize conversion, such as clearly displaying the right information on cover, including COVID, and using data collected in the booking path to tailor product and price.
Generally, we gathered from the UK consumers surveyed in our research that they tend to perceive insurance as a practical need to cover the high costs associated with medical and other accidental expenses. For those who are open to buying travel insurance from travel players, 46% of them are open to buying non-insurance products from travel players and price discounts remain as a top contender to attract potential customers to buy in a greater stake of your offerings.