Introduction
We've only been halfway through 2023 yet the travel insurance industry has already witnessed so many interesting developments in the past few months. But brace yourselves! It will only get more exciting in the second half as 15 conferences are set to convene the leading experts and players within the insurtech and travel industries.
So, if you're on the lookout for the next conference that can keep you up with the latest trends, look no further because, in this article, we have curated a list of travel insurance conferences worth attending in the second half of 2023.
#1: Digital Travel APAC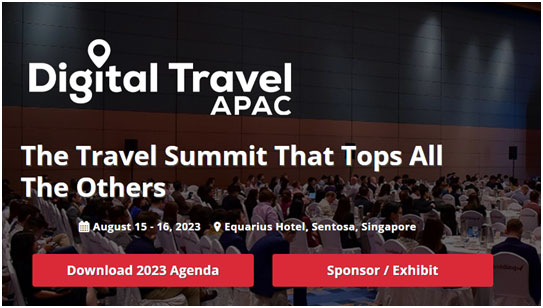 Dates: August 15-16, 2023
Venue: Equarius Hotel, Sentosa, Singapore
Website: https://digitaltravelapac.wbresearch.com/
2023 Topics Covered Include:
Achieving sustainable growth and driving innovation during times of disruption through a tech-led approach
Utilizing data-driven insights to curate customized and seamless travel experiences
Fostering collaboration to build sustainable and community-centered travel experiences
Tapping into emerging travel trends and partnerships to enhance customer loyalty and engagement
The Digital Travel APAC event is a gathering of forward-thinking and digitally adept leaders in the travel industry. Joining this exclusive event are professionals specializing in marketing, digital transformation, customer experience, and e-commerce, all coming together to shape the future of travel.
The event's agenda is meticulously curated based on extensive research, incorporating valuable insights from hotels, online travel agencies (OTAs), airlines, tourism boards, as well as tour and activities operators across the Asia Pacific region. What makes Digital Travel APAC stand out from other conferences is that it presents real-world case studies from travel operators themselves, ensuring participants gain practical knowledge and expertise from industry leaders.
#2: Airline & Travel Payments Summit APAC

Dates: August 22-23, 2023
Venue: Doubletree by Hilton Sukhumvit Bangkok
Website: https://www.aiconnects.us/atps-apac-2023/
 2023 Topics Covered Include:
Innovations in airline and travel payment systems
Enhancing payment security and fraud prevention
Improving customer experience through payment technologies
The Airline & Travel Payments Summit is an anticipated event for players in the travel industry seeking to explore the latest developments in airline and travel payment technologies. Set to happen in Bangkok, this summit brings together industry experts, executives, and stakeholders to discuss innovations in payment systems, security, and customer experience. This event will provide participants with valuable insights into mobile payment trends and the future of digital payments in the Asia-Pacific region.
#3: Insurance 2030: From Science Fiction to Reality

Dates: August 23-24, 2023
Venue: Concorde Hotel, Singapore
Website: https://www.asiainsurancereview.com/Events/Home/Asia/airscifi2023
2023 Topics Covered Include:
The Potential of AI in Insurance
The Crucial Role of AI in Cyber Risk Assessment
Leveraging AI for Streamlined Insurer Operations
AI's Transformational Impact on the Insurance Industry
With AI's transformative potential impacting every aspect of the insurance value chain, from research and development to marketing, sales, and customer operations, it is crucial for insurers to embrace this technological revolution.
At the Insurance 2030: From Science Fiction to Reality event, key topics such as the potential of AI in insurance, personalized risk profiling, fraud detection, and cyber risk assessment will be explored. The event will shed light on how AI is fostering a customer-centric and dynamic future for the insurance industry while also addressing critical themes like liability, accountability, and cross-sector regulations.
#4: FST Media's Insurance Summit, Sydney

Date: September 7, 2023
Venue: Four Seasons Hotel Sydney
Website: https://fst.net.au/event/insurance-summit-sydney-2023/
2023 Topics Covered Include:
Data Analytics
Customer Insights
Artificial Intelligence
Cloud-First Strategies
Claims Innovation
Automation and Machine Learning in Practice
FST Media presents the Insurance Summit, Sydney 2023, a distinguished gathering of senior leaders in the insurance industry, aimed at exploring cutting-edge business strategies and technologies that drive agility, foster business growth, and enhance customer engagement. This exclusive event gathers over 100 chiefs, general managers, and divisional heads from Australia's leading insurers, making it an unrivaled opportunity to delve into ongoing innovation and its implications for the future of insurance.
Handpicked through a rigorous invitation process, attendees include key decision-makers and influencers, setting the stage for impactful face-to-face engagements and enriching discussions. The summit features a unique format, combining keynote and panel speaking sessions with roundtable breakouts, creating an environment conducive to in-depth conversations about industry updates, best practice case studies, and successful strategy implementation.
#5: INNOVATE THIS

Dates: September 13-14, 2023
Venue:
Website: https://this-network.com/innovate-this/
2023 Topics Covered Include:
Travel Insurance And Digital Transformation
Digital Nomads And The Art Of Insurance Innovation
Exploring the Triumph of Payments in Achieving Customer Satisfaction
Can Travel Insurers Really Make Claims Their Superpower?
INNOVATE THIS is a highly-anticipated event that takes a deep dive into the most significant innovations happening across the travel insurance ecosystem. With a packed conference agenda, this event addresses innovation in product design and delivery, payments processing, data management, claims models, customer experience, and much more.
This in-person conference presents an exclusive opportunity to gain fresh insights, exchange ideas, and collaborate with thought leaders and innovators shaping the travel insurance landscape.
#6: InsurTech Leaders Summit 2023

Dates: September 20-21, 2023
Venue: Park Royal Collection Kuala Lumpur
Website: https://emnesevents.com/insurtech-leaders-summit-apac-2023/
2023 Topics Covered Include:
Transitioning from financial products to value propositions
Future-proofing personalized customer experiences
Building a seamless, tech-driven, and digitally-oriented resilient insurance organization
Immerse yourself in the world of insurance innovation at the InsurTech Leaders Summit—a transformative event designed to engage and inform. Explore pressing topics driving the insurance industry today, from achieving excellence in governance and corporate leadership to future-proofing personalized customer experiences with resilient, tech-driven solutions.
Beyond a mere event, the InsurTech Leaders Summit offers a unique opportunity to learn from industry experts, network with peers, and foster relationships with potential clients.
#7: Global Insurtech Summit USA 2023

Dates: September 26, 2023
Venue: 360 Madison, New York
Website: https://fintech.global/globalinsurtechsummitusa/
2023 Topics Covered Include:
What are the priorities for insurance leaders?
Leveraging technology to revolutionize your underwriting capabilities
Personalize your insurance products for the future
Insuring in an evolving Global Risk Landscape
The rise of embedded insurance
The Global Insurtech Summit USA 2023 is set to be the most collaborative gathering of senior insurance and tech executives in the industry. At this summit, you'll have the unique opportunity to network with top-level industry leaders, many of whom do not attend other events, and engage with relevant insurance companies driving digital transformation. Discover how market leaders are working with InsurTech providers to overcome operational and strategic obstacles, enabling growth and success.
Explore the opportunities and hurdles that define the insurance landscape today through a diverse range of topics. Learn from global insurance leaders as they address industry priorities and innovation challenges. Dive into the impact of AI and data-management solutions on underwriting and discover the best approaches to partnerships. Unravel the potential of personalized insurance offerings to create exceptional customer experiences.
#8: Insurance Tech Innovation Conference

Dates: October 19-20, 2023
Venue: London
Website: https://events.altaworld.tech/Insurance-Tech-Innovation-Conference-London.html
2023 Topics Covered Include:
Harnessing the Power of Analytics, Blockchain, and Cloud Technologies
AI/ML, IOT and Big Data in insurance
Claims Transformation Roadmap and Virtual Claims Handling
The Insurance Tech Innovation Conference offers a dynamic platform for insurance professionals to engage and be informed about the latest innovations, strategies, and technologies shaping the industry's future.
As the insurance landscape rapidly evolves, this conference provides the perfect opportunity for insurance companies to adapt and thrive in the face of change. Explore groundbreaking business models, harness cutting-edge digital transformations, and break barriers that have long confined the insurance sector. Delve into thought-provoking discussions on enhancing customer experiences with Customer Engagement Models, Chatbots, and Omni-Channel Support.
This conference extends a warm welcome to leaders from across the insurance sector seeking valuable insights and a competitive edge in their digital transformation journey. Engage with CIOs, CTOs, CEOs, VPs, directors, heads, and managers representing various insurance domains, including brokers, retail agents, claim adjusters, and more.
#9: Travel Tech Asia

Dates: October 25-27, 2023
Venue: Marina Bay Sands, Singapore
Website: https://www.traveltechasia.com/
2023 Topics Covered Include:
Artificial Intelligence
Data, Personalization, and Mobile Marketing
Digital Payment and Blockchain
Super Travel Tech (new and unthinkable tech)
Organized by the team behind ITB Asia and MICE Show Asia, Travel Tech Asia stands proudly as part of the largest travel trade show in the APAC region. This event aims to bring together the latest technologies, emerging trends, leading travel brands, and innovative startups, all under one roof, to shape the future of the travel industry.
It's a must-attend event for all travel tech industry professionals as it offers networking potential and a rare opportunity to connect with hundreds of influential executives and thousands of like-minded attendees across various travel sectors.
#10: 2nd World Intelligent Insurance Summit

Dates: November 2-3, 2023
Venue: Hotel Riu Plaza Berlin, Berlin Germany
Website: https://www.luxatiainternational.com/product/2nd-world-intelligent-insurance-summit
2023 Topics Covered Include:
Optimizing Pricing Processes and Simplifying Workflow using AI
Enhancing Customer Experience through Telematic Technology
Using Blockchain Technology to Trigger Smart Contracts and Claims Payments
Exploring Opportunities for the Insurance Industry in the Metaverse and Web3-based Technologies
Get ready to be at the forefront of insurance innovation as we return to Berlin, Germany, for the highly anticipated 2nd World Intelligent Insurance Summit on November 2nd-3rd, 2023. This event focuses on the latest innovations and strategies to propel the insurance sector forward, covering policy pricing, fraud detection, consumer engagement, claims, underwriting, and more.
Bringing together InsurTech specialists, brokers, and researchers from various insurance types, this hybrid summit explores the best strategies to create hyper-personalized policies, ensure compliance while collecting large data, and employ smart contracts in claims automation. The summit will host industry leaders sharing their insights on the latest trends transforming the insurance landscape.
#11: ITIC Global Barcelona

Dates: November 5-9, 2023
Venue: W Barcelona Hotel
Website: https://www.itic.co/conference/global/
2023 Topics Covered Include:
The future of telemedicine
What does the future hold for providers and payers?
The evolution of travel insurance
Digital fraud—Identifying the risks and finding solutions
Experience the future of travel and health insurance at ITIC Global, where industry leaders, providers, and other participants converge to discuss the insurance landscape. This annual event unites the ITIC community worldwide, fostering collaboration and innovative solutions to cater to the evolving needs of global travelers.
ITIC Global presents a thought-provoking lineup of sessions, covering critical themes such as the future of telemedicine and its application in travel and health insurance, air ambulance challenges, and embracing technology for digital nomads and expats.
#12: Insurance Innovators Summit

Dates: November 15-16, 2023
Venue: QEII Centre, London
Website: https://marketforcelive.com/insurance-innovators/events/summit/
2023 Topics Covered Include:
Navigating new risks
Disruptions in distribution
Web3 & the metaverse continuum
Next-generation pricing
Gamification & value-added services
The future of auto insurance
Set to happen at the QEII Centre in London, the Insurance Innovators Summit brings together over 1200 insurance powerhouses and next-gen disruptors from across the globe, creating an unparalleled platform to reshape the insurance landscape.
What makes this summit worth your attendance? It's the unique blend of insurer-led conversations, thought-provoking content, and extensive networking opportunities. Delve into five stages brimming with cutting-edge content, where CEOs from industry giants like AXA Retail, Ageas, and RSA share their insights and strategies.
#13: The Future of Insurance Canada 2023

Dates: November 15-16, 2023
Venue: Sheraton Centre Toronto, Canada
Website: https://events.reutersevents.com/insurance/future-insurance-canada
2023 Topics Covered Include:
Strategy & Resilience
Innovation & Tech
Customer & Product
Ai & Partnerships
Prepare for The Future of Insurance Canada 2023, a premier event gathering over 300 attendees, including 70% insurance providers and 50+ industry speakers, establishing itself as Canada's most esteemed insurance gathering. This exclusive two-day in-person meeting empowers carriers to confront the challenges of today's dynamic insurance landscape.
Participants will immerse themselves in critical themes for driving transformation and success. Emphasizing strategy and resilience, the event focuses on cultivating innovation, agile business strategies, and visionary leadership. Innovation & Tech explores data-driven decision-making and transformative technologies like drones and telematics. Customer & Product emphasizes exceeding customer expectations through personalized insurance experiences. Lastly, AI and partnerships reveal how carriers can leverage AI for tangible ROI through strategic collaborations.
The ultimate aim of this event is to equip carriers with the knowledge and tools necessary to thrive in an ever-changing industry. By embracing customer-centered, growth-driven, and tech-empowered strategies, carriers can navigate uncertainties and lead the transformative evolution unfolding in the insurance landscape.
#14: ITC DIA Munich

Dates: November 22-23, 2023
Venue: Eisbach Studios
Website: https://www.digitalinsuranceagenda.com/events/itc-dia-europe-munich-2023/home/
What to expect in this event:
Show and Tell – A showcase of insurtechs' latest products, technology and use cases
Deep Dive and Vision Brief – Beyond early startup stage: scale ups, tech companies and insurers
Showcase of industry leaders and experts' vision on key challenges within the industry
Step into the world of innovative insurance technology at ITC DIA Munich 2023, a truly Pan-European event that transcends borders and unites a global audience. Here, tech providers and insurers from around the world converge to showcase their most successful use cases, offering a diverse and inspiring landscape of innovation. Prepare to engage with peers not just from Germany, but from all corners of Europe and beyond, as ITC DIA Europe Munich hosts an exceptional mix of international, regional, and domestic companies.
Dive into real success stories and gain firsthand knowledge of tried and tested methods that have transformed the insurance landscape. Be at the forefront of technological advances, learning about the latest innovations shaping the insurance industry. Explore the state-of-the-art digital transformation in insurance and equip yourself with the tools needed to thrive in the ever-changing market.
#15: The Future of Insurance Europe 2023

Dates: November 28-29, 2023
Venue: Hotel Novotel Amsterdam City
Website: https://events.reutersevents.com/insurance/future-insurance-europe
2023 Topics Covered Include:
Strategy and Resilience
Technology and Innovation
Claims and Customer
ESG and Inclusion
This coming November, insurance leaders from across Europe will converge in Amsterdam for a groundbreaking event—The Future of Insurance Europe 2023. Amidst the unprecedented level of change surrounding us, this gathering serves as a catalyst for collaboration, innovation, and practical change.
At this dynamic event, participants will explore four defining themes that hold the key to success in the insurance landscape: Strategy and Resilience, Technology and Innovation, Claims and Customer, as well as ESG and Inclusion.
The Future of Insurance Europe 2023 is a gathering of minds, where borders dissolve, and innovation thrives. Together, industry leaders from over 35 European countries will chart a path that embraces change, capitalizes on opportunities, and ensures a future of growth and resilience. Join this transformative event, engage with cutting-edge ideas, and be part of shaping the path ahead for the insurance industry.