Psyche of the Indonesian Endemic Traveler: 2022 Travel Insurance Outlook
Majority of the Indonesian respondents (93%) have plans to travel in 2022. When it comes to the type of travel that makes it more likely for them to opt for travel insurance, there is a fair split for domestic travels (48%) but they are more inclined to opt in travel insurance for regional/international travels (56%). This implies a brewing opportunity for insurers to innovate their product and service offerings for the different types of travel.
Most of the Indonesian travelers (80%) already have a preferred insurance brand, but there is a significant percentage who are still open to buy travel insurance from travel players – especially with airlines and online travel agencies (OTAs).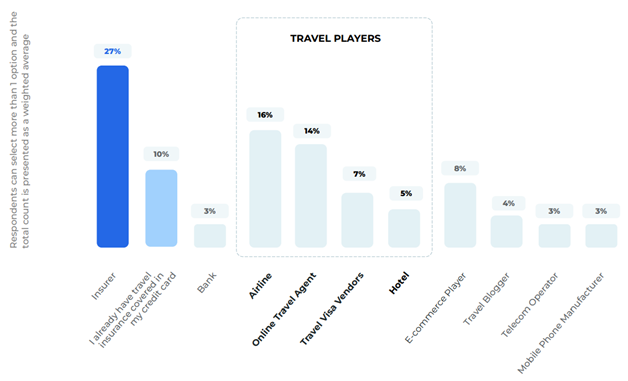 Insurers direct channel still preferred by Indonesian travelers but open to purchase from travel players
In terms of willingness to purchase insurance via embedded/in-path means, Indonesia emerges as the second contender in our global research to have the most global travelers who are open to opt in for the aforementioned (57%).
Let's delve into the specifics of the Indonesian market to find out what ticks for consumers when it comes to embedded travel insurance. The consumer research is part of Ancileo's 2022 Travel Insurance Whitepaper, in which you can find the key highlights gathered from the global research deck in our post here.
Outlook of Travel Insurance in Indonesia
Aforementioned that majority of the Indonesian travelers have a preferred insurance brand. While the top 3 brands that travelers prefer are global insurers, namely Allianz, AXA and Prudential, we can see from the infographic that there is still a good mix of both international and local brands, including specialist insurance companies.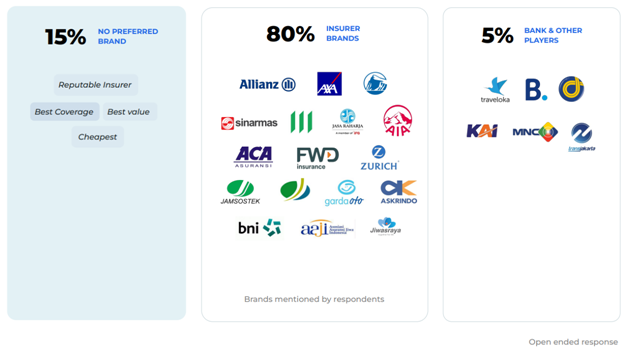 What enables the aforementioned brands to have a competitive advantage over others? Ease of online claims tops motivation for purchase. Going into the specific customer profiles, Gen Z and business travelers value insurers' capability to provide guidance on travel formalities more than the reputation of the insurer. On the other hand, luxury travelers are less price sensitive and value high coverage with COVID-19 benefits.
What explains the strong inclination for Indonesian travelers to purchase travel insurance? Medical coverage and personal accident coverage are the top reasons to buy travel insurance. Differentiating the top reasons by customer profiles:
Trip cancellation coverage is particularly important for travelers intending to travel multiple destinations and winter sport activity goers
Baggage and loss of personal belongings coverage is particularly valued by travelers intending to travel internationally
Trip Interruption coverage is particularly valued by budget travelers
The infographic below details the top additional services valued by Indonesian travelers.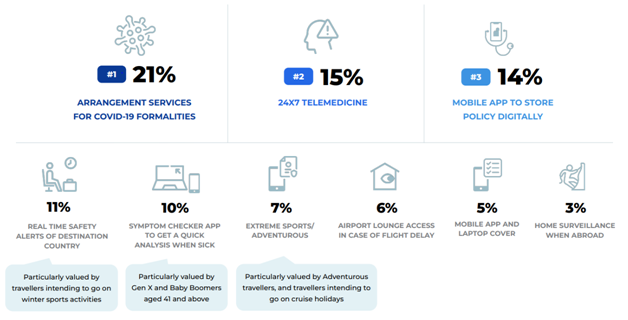 Consumer guidance on COVID-19 formalities as the most valued complementary service is seconded by an interview we did with Melisa Irwan, Business Manager of Ancillaries at Malindo Air. She posits the importance of a travel insurance partnership strategy in the Asia region – elevating COVID-19 coverage as a key focus in this partnership – as it is being mandated as an entry requirement into some Asian countries.
Where is Indonesia now in Embedded Insurance?
As we now move into the partnerships arena, embeddedness of the insurance product and service is a key aspect that influences the customer experience for both the insurer and the partner alike.
Contrary to other markets surveyed, the reasons cited by Indonesian travelers to purchase in-path from travel players center around the convenience of the one-click purchase process, including but second to time and cost savings.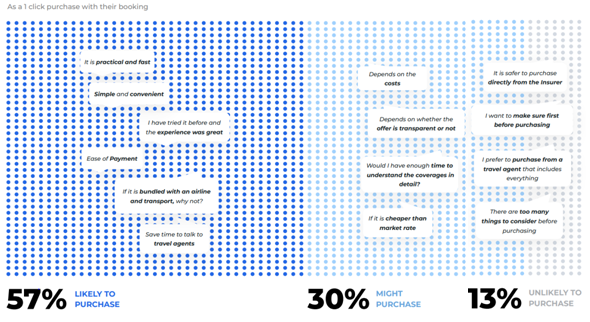 More than ⅓ of the respondents indicated "personalization of plan to my needs" as the key motivating factor to purchase from travel players. For upper managerial workers and baby boomers aged 56-69, they are influenced to purchase when the insurance is offered by their preferred insurer. Whereas, travelers going on short trips (i.e. city breaks, weekend trips) are influenced by one-click purchase.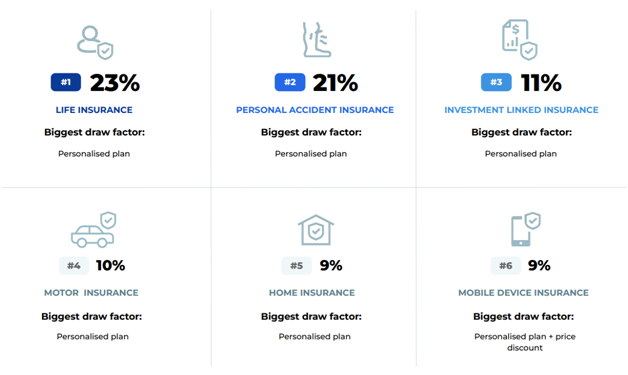 92% are open to buying non-travel insurance products from travel players. Once again, the biggest draw factor is personalization of plan. That said, insurers should tap on the wealth of data that travel players possess to optimize the outreach of their offerings. The ever-changing climate of many industries, especially for travel, pushes insurers alongside other ecosystem stakeholders to review their product pricing and benefits regularly to remain relevant and competitive.