Psyche of the Singaporean Endemic Traveler: 2022 Travel Insurance Outlook
Pre-COVID times, Singaporeans are amongst some of the most well-traveled people in the world. Yet, in post-COVID times, our research reflected that the Singapore market has the highest proportion of travelers not planning to travel in 2022 (only 60% has plans to do that).
However, we want to highlight that when this survey was done in December 2021, this was also the peak timing when travel restrictions in this city-state as well as in other countries were changing at short notice. The need to quarantine is also another strong deterrant for traveling.
Singapore Airlines reported that the opening of Vaccinated Travel Lanes (VTL) has since become a key motivator for overseas trips. For travelers, the research and paperwork burden of changing flights and hotel bookings can be extremely cumbersome! As such, one important way Singapore Airlines is encouraging travel is by reducing uncertainty for the customers is through booking flexibility and keeping them aware of travel documentation requirements.
Outlook of Travel Insurance in Singapore
Singaporeans are passionate about traveling! But they also want to play it safe, and this means brewing opportunities for travel insurance to close the gap in the regard of travel uncertainities.
Second to the UK, an astounding 82% of Singaporean travelers will purchase travel insurance for 2022 vacation. Across all age groups, travelers are risk averse and would not travel without travel insurance.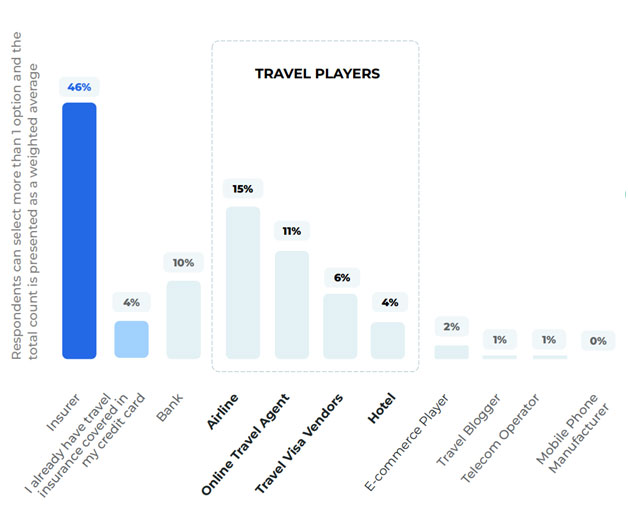 Majority of travelers prefer to get from travel insurers, and have a preferred insurance brand. Insurers offer attractive incentives to draw potential customers to buy from them. MSIG, for example, have enhanced their TravelEasy plan with COVID-19 coverage at no extra cost. On top of keeping the premiums affordable at challenging times, they also offer free PCR tests for those who purchase their annual travel insurance plan.
Second to insurer direct channels are travel players. Collaborating with airlines, travel agencies and other travel operators will enable insurers to provide a convenient and seamless insurance purchase journey, and deliver greater value to their customers and business partners.
In terms of motivating factors for purchase, second to the price of the plan is the ease of online claims service which is likely to go up at times like these, followed by COVID-19 benefits. To add, more than ⅓ of the Singaporean travelers (38%) ranks arrangement services for COVID-19 formalities as the most valued complementary service.
Ease of online claims service holds significant importance to travelers between the ages of 35-44 years old who are married with young children. Gen-Z travelers aged between 18-24 value personalisation of plan, especially adventurous travelers.

Jeremy Lian, Head of Technical Services at MSIG, puts forward that medical coverage is one of most critical aspects of any travel insurance and in the regard of personalization, MSIF offers tiered plans positing different levels of coverage which will cater to varying needs of the old and young alike.
Where is Singapore now in Embedded Insurance?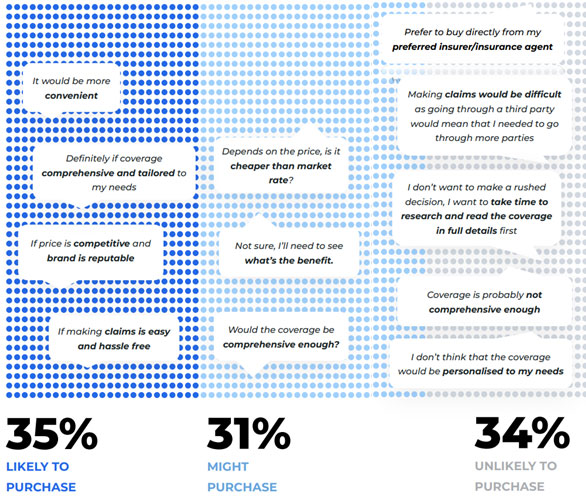 From the infographic above, you can find that the sentiments to purchase travel insurance via embedded/in-path means on the travel players' platforms are clearly split for varied reasons. As with the other markets, the reasons are quite similar – With those likely to purchase, reasons range from competitive pricing to convenience; and with those unlikely to purchase, potential customers feel limited by the choices offered at the point of purchase and want to take the liberty to compare options.
What else does it take to push the 65% to the far-left side of the chart? Across all income levels, travelers are influenced by price discounts on travel insurance plans. The other push factor that is interesting to mention is when the insurance plan comes with loyalty miles for travelers who belong to an airline members program.
READ MORE: Ancileo Blog – Travel Expert Insights on Consumer Behavior & Insurance Trends > Section on "5. Partnerships to streamline experience for the end user"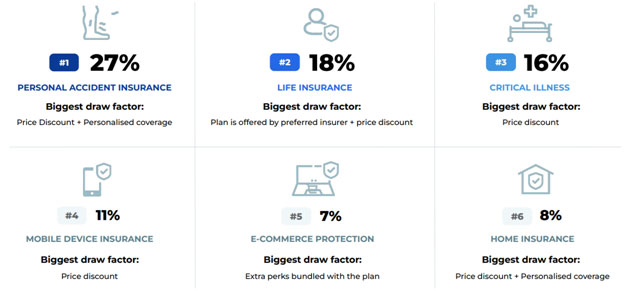 Beyond travel insurance partnerships, Singapore is a fertile market for partnerships for other insurance products – With 55% of the Singaporean travelers open to buying non-travel insurance products from travel players. That being said, insurers and travel players would benefit from a deeper partnership strategy to engage with customers on an ongoing basis to identify new opportunities and innovations for product/service offerings.