Introduction
In 2022, we conducted a study Singapore: 2022 Travel Insurance Outlook, surveying 500 travelers to gain insights into their views on travel insurance. Now, in this follow-up survey, we delve deeper to explore how travelers' sentiments towards travel insurance have changed with the return of travel. Read on to discover the key findings and insights from our survey.
Key Factors Influencing Travel Insurance Purchases
In our survey, we found that 68% of the 500 respondents are willing to purchase travel insurance plans for their trips in 2023.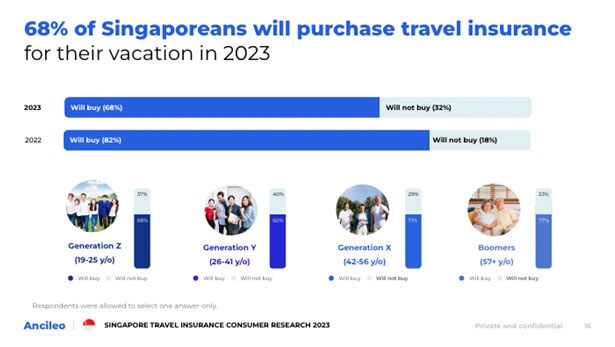 Here are some insights that we found:
#1: Price And Ease Of Online Claims Emerge As Top Purchase Considerations
Pricing was identified as the most important consideration among travelers when purchasing travel insurance plans. Ease of online claims is also a crucial factor for many, as it enables them to make claims quickly and easily without the need for physical documents or lengthy processes. 
#2: Covid-19 Coverage Remains A Priority For Family Travelers
Although COVID-19 benefits were a significant consideration for trip insurance purchases in 2022, it is no longer a top priority for most travelers in 2023. However, family travelers still see it as a crucial factor, given that the pandemic has heightened awareness of the risks associated with travel and the necessity of having coverage for unforeseen circumstances. 
#3: Personalization Of Travel Insurance Plans Are More Important For Generation Y Travelers
Generation Y travelers (26-41 y/o) place more emphasis on personalization of travel insurance plans compared to other age groups. This could be due to their greater familiarity and comfort with technology, which has enabled them to access personalized insurance products and services.
#4: Price Sensitivity Higher Among Younger Travelers
Younger travelers (Generations Y and Z, 19-41 y/o) are more price sensitive than the rest of the age groups. This suggests that insurers may need to offer more affordable and flexible plans that cater to the needs and preferences of this demographic. By taking these factors into account, insurers can better meet the evolving needs and expectations of travelers and ensure that they have the right coverage for their travel plans.
Challenges Faced By Travelers When Purchasing Travel Insurance
Our survey revealed that the top three challenges faced by travelers when purchasing travel insurance are: policy exclusions, lack of transparency, and difficulty in filing online claims.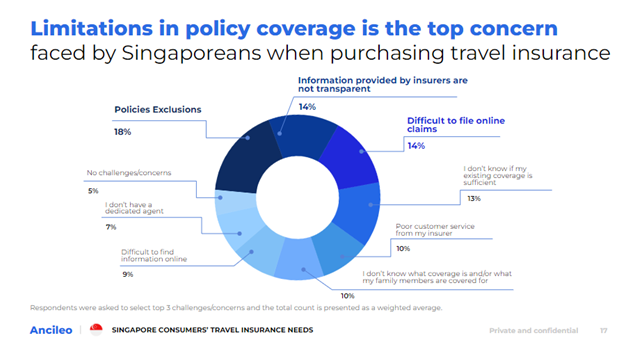 Challenge #1: Policy Exclusions
Policy exclusions are a common challenge for many travelers, especially for those in the Generation X age group (42-56 y/o). They highlighted limitations in policy coverage the most compared to other age groups.
Challenge #2: Lack Of Transparency
Another notable challenge is insurers' lack of transparency, making it difficult for travelers to understand their coverage. This can lead to confusion and frustration, especially for those prioritizing trip interruption coverage who often struggle to obtain necessary information.
Challenge #3: Difficulty In Filing Online Claims
Travelers who prioritize ease of online claims service, as well as those who prioritize trip cancellation coverage, face limitations in policy coverage and difficulty in filing online claims. This highlights the need for insurers to provide more comprehensive and transparent coverage and make their claim management system more user-friendly and streamlined to reduce the burden on travelers.
Overall, these challenges underscore the need for insurers to improve the transparency, coverage, and ease of use of their travel insurance products to better serve the needs of travelers. By addressing these challenges, insurers can help travelers feel more confident and secure when planning their trips.
DOWNLOAD THE REPORT TO GET MORE INSIGHTS
Highly Regarded Travel Insurance Services
Travelers value insurance services that can provide them with added convenience during their trips. Parametric flight delay, airport lounge access, and real-time safety alerts are the top three most valued services for travelers when purchasing travel insurance.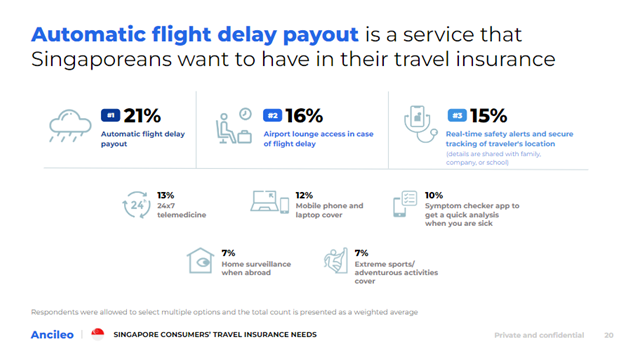 Here are some key takeaways from this study:
#1: Flight delay payout and airport lounge access are highly valued travel insurance services
For travelers who prioritize trip cancellation and interruption coverage, automatic flight delay payout and airport lounge access are highly valued in case of flight delays. This can be attributed to the fact that flight delays can cause travelers to incur additional expenses, and airport lounge access can provide them with a comfortable place to wait while their flight is delayed. 
#2: Real-time safety alerts and location tracking are top priorities for travelers seeking accident and medical emergency coverage
Travelers who prioritize coverage for accidents and medical emergencies are often looking for more than just basic travel insurance. They value having access to services that can provide real-time safety alerts in the event of an emergency, as well as secure location tracking services so they can locate family members or keep track of their own safety during their trip.
#3: Real-time safety alerts and airport lounge access are top priorities for family travelers
Family travelers place the highest emphasis on tracking real-time safety alerts, given their heightened concerns for their family members' safety during travel. They also prioritize airport lounge access as part of their insurance plan, in case of flight delays.
Travelers' Feedback On Improving Travel Insurance Services
We asked travelers about their feedback on improving travel insurance services.The following are the top findings that emerged.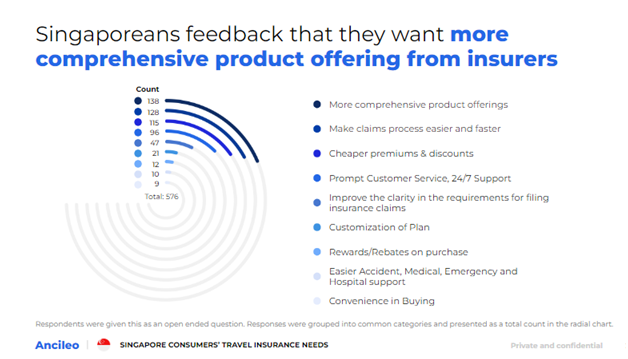 Feedback #1: More Comprehensive Travel Insurance Options
Majority of travelers want more comprehensive product offerings for travel insurance. They want coverage that extends beyond the typical benefits of trip cancellation, lost baggage, and medical emergencies. In particular, a large percentage of Baby Boomers (57+ y/o) expressed a desire for more comprehensive coverage options.
Feedback #2: Simplify And Expedite Claims Process
Travelers also want the claims process to be easier and faster. They want a hassle-free claims process that can be completed quickly and efficiently. This is especially important for those who have experienced a travel-related emergency and need to file a claim urgently.
Feedback #3: More Affordable Premiums And Discounts
Additionally, travelers want to have cheap travel insurance premiums and discounts. This is particularly important for business and family travelers who travel frequently and require travel insurance coverage for multiple trips.
Feedback #4: Round-The-Clock Customer Assistance
Coming in top four, travelers want prompt customer service and 24/7 support. Generation X and Y (26-56 y/o) emphasize the importance of having round-the-clock customer assistance. They want to be able to reach their insurance provider at any time, especially in case of emergencies.
To wrap it up, our study highlights the need for insurers to offer more comprehensive coverage options, a hassle-free claims process, and affordable premiums to meet the evolving needs of travelers. Providing prompt customer service and 24/7 support is also crucial for enhancing the overall customer experience. By addressing these key areas, travel insurance companies can provide travelers with the peace of mind they need when planning their trips.
If you are interested in learning more about our study, download the complete report on "Understand Consumers' Travel Insurance Needs".