Psyche of an USA Endemic Traveler: 2022 Travel Insurance Outlook
Last December, Ancileo sent out a survey questionnaire to 400 participants from the United States to understand how consumer sentiments towards travel insurance have changed in the endemic. The insights gathered from this one is part of our 2022 Travel Insurance Whitepaper, consolidating consumer research from 12 markets and in-depth interviews with key players from the travel ecosystem. You can find some of the key highlights gathered from this global research in our post here.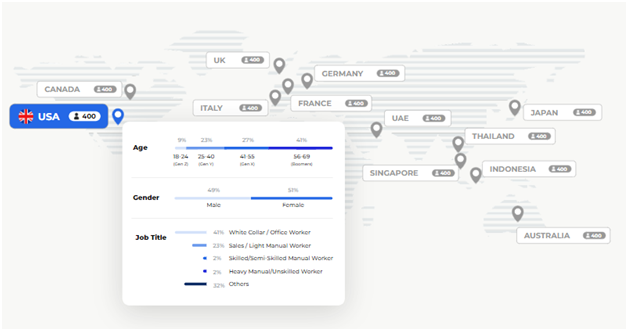 USA Travel Insurance Consumer Research: Who we Surveyed
Outlook of Travel Insurance in the USA
Comparing across markets, the USA has the highest proportion of travelers that are willing to travel without travel insurance and this is consistent across all age groups. As of 2022, 36% of those surveyed would purchase travel insurance for their vacation and 60% of those who are not planning to travel indicated they would purchase travel insurance if they needed to travel for essential reasons.
We gathered from those who have never bought travel insurance that they do not see it as a necessity to spend on. Also given the high cost of insurance fraud in the USA,  consumers are also doubtful about whether it can come across as a scam.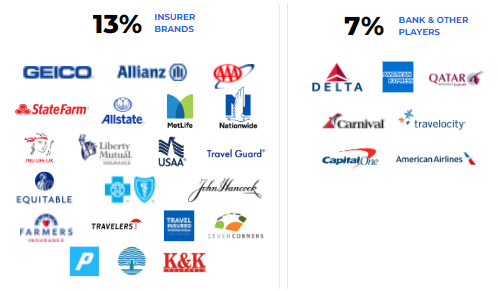 Brands mentioned by respondents: Majority of travelers are indifferent towards insurer brands
What incentivises American travelers to buy insurance? The top reasons for them to buy travel insurance include trip cancellation and trip interruption charges which are particularly valued by domestic budget travelers, and emergency and medical expenses. COVID-19 coverage is still ranked lower to other factors, but prioritized the most by business travelers intending to go on international trips.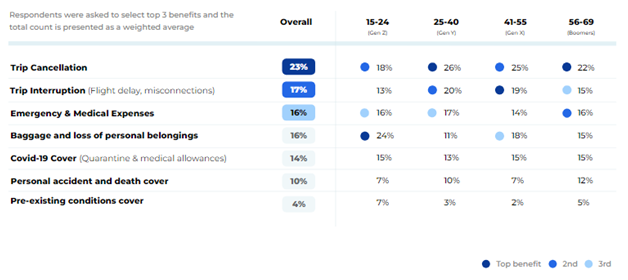 Reasons for USA consumers to purchase travel insurance
Complementary services that are most regarded by American travelers are airport lounge access in case of flight delay, arrangement of services for COVID-19 formalities and real-time safety alerts of destination country.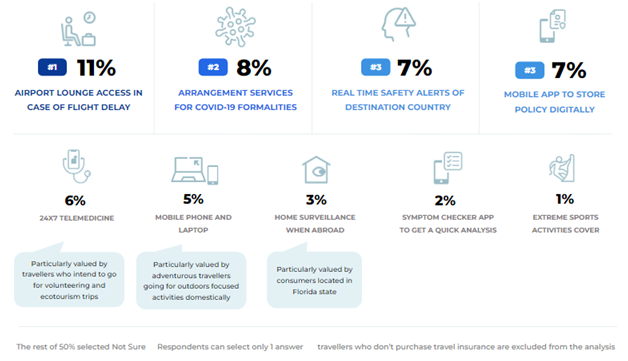 Add-on/complementary benefits valued by USA consumers
As with their priorities when evaluating a travel plan including insurance, American travelers are influenced most by the price of the plan, followed by the insurer's reputation and the personalization of plan to individual traveler needs.
Where is the USA now at Embedded Insurance?
USA consumers still prefer getting insurance via the insurers direct channel. However, most of them (78% of the respondents) are also open to purchasing travel insurance from non-insurers. The top non-insurer vendors being airlines, online travel agents, hotels and travel visa vendors.
Overall, USA consumers are neutral and responsive towards all motivational factors. Similar to other markets, the top influencing factors to get travel insurance from non-insurer vendors are price discounts, plan personalisation and 1-click convenient purchase at point of sale. Specific to the USA, Gen X consumers (41-55 year olds) are mostly influenced by price discounts on plans while tour group travelers are non-price sensitive and would rather seek for a plan personalized to their needs.
USA consumers would be incentivised to purchase travel insurance via the 1-click purchase option due to time saved searching for travel insurance and when an additional benefit is offered. On the other end, consumers are held back by reasons of wanting to take the lead to research the insurer's reputation, to compare the options and that they associate travel insurance coming later to flight and accommodation bookings.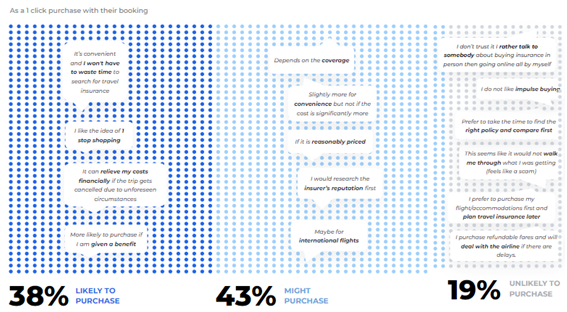 Likelihood of USA consumers to purchase travel insurance via 1-click purchase from travel players
Beyond travel insurance, there are non-travel product opportunities for 1-click purchase in the USA. The top winning non-travel products of interest are personal accident, mobile device and motor insurance.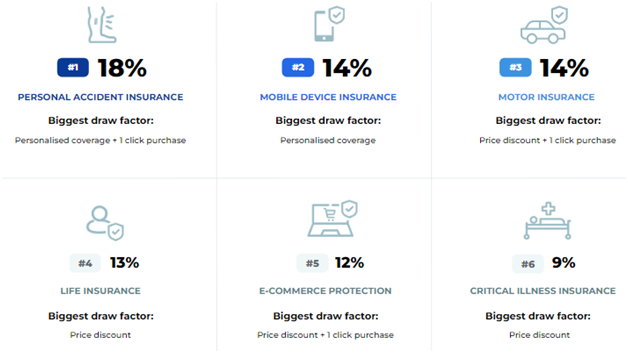 55% are open to buying non-travel insurance products from Travel Players
The digital platform has been pertinent to the growth of embedded insurance, by seamlessly connecting all players in the insurance ecosystem. Aside from providing the convenience of a 1-click purchase, data analytics enables personalized coverage which is proving to be another key motivating factor for travel players to cultivate more partnerships with insurers in non-travel products.